Rafting in Ciberang River, Lebak Gedong Banten
---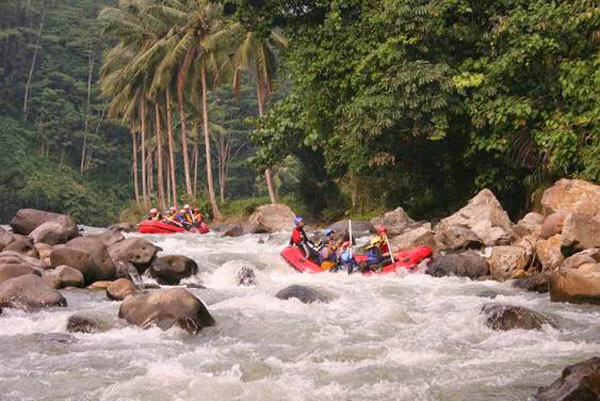 For those who love rafting, Ciberang River is a good spot to explore. It is located in Ciladaeun Village, Lebak Gedong. Today, it becomes Banten's best nature tourism spots. Everyone is able to enjoy the solemn of nature and gain a thrilling experience in it. There are different routes for rafting, after all. That means both beginners and professionals can choose the most suitable route for them. For first timers, it is better to use a short course. The length is only 700 meters. For those who love an extreme activity, there is a longer route. This one takes up to 4-5 hours to explore! The length is about 25 km.
The Nuance
During holidays, Ciberang River has many visitors. That means you can see many people and rafts. Some instructors are also available there. Have no worries. You can simply wear the gears and rent the boat. One thing, the price can be quite expensive during holidays! When it comes to nuance, the river doesn't feature strong currents. Still, there are several stones nearby. You can find many trees in the riverbeds. In some way, they create a shady and comfortable atmosphere along the river.
Exploring Ciberang River
The best feature in Ciberang River is the collection of rapids. You can find different rapids with their distinct characteristics. These definitely give you unique levels of challenges. Not to mention there are numerous types of trees. Actually, these plants are part of Halimun Mountain National Park! Thus, they make a comfortable and perfect atmosphere along the river. On top of that, you can see some settlements during rafting. Some villagers may even wave to you. After all, they are friendly people.
Rafting becomes a primary activity in Ciberang River. What about those who can't swim? Have no worries. You don't have to be a good swimmer. It is because all tourists are equipped with a life vest. One thing, you should obey the instructor. He or she may tell you the safety procedure regarding the rafting. This way, everyone can be safe in exploring the river regardless of the experience. Both the instructors and operators are experienced. They give tourists a reassurance and comfort while travel around the river. What do you think?
What about the price? Well, you should not spend too much money. The cost varies, though. It depends on the level of difficulty and the length of the route. For beginners, it is better to start from the shortest one. The best part is you are getting free fresh coconut drink and lunch! What about the passengers? The minimum amount of is 3 people. Also, it should not exceed more than 5 people in each the boat. An instructor will accompany you during the adventure. He leads this fun activity in a professional manner.
Nearby Attractions
How to Get There
Are you ready to visit Ciberang River? In this case, you need to reach Lebak Gedong District first. From Jakarta, it takes about 2 hours. The route is Serang – Muhara. Once you have arrived in Lebak, it is time to head to Ciladaeun Village. From there, you can directly head to the river. If necessary, you can take advantage of a local guide. Even some instructors are available there. For better prices, it is better not to come during weekends
Where to Stay
Kharisma Jujuluk Hotel
Bangkit Hotel

Latest News
Sawarna Beach Sawarna beach, that located in Lebak, Banten province is now becomes more popular to be visited. In a decade, this beach that located along the forest beach in line with Pelabuhan Ratu, raise as one of most-visited beach and entitled as a new pearl in Southern Banten. To reach Sawarna, the travelers from Jakarta can be start the journey from Tangerang, Tigaraksa and Malimping, Bayah. While, from Bandung, we can start from Pelabuhan Ratu, then down the coast to the west. Unfortunately, we have to ask to the…
---
Serang Serang is the capital of Banten Province and the administrative center of Serang Regency. The administrative center of the regency and the capital of the province is the independent municipality of Serang (Kota Serang). Serang is about 10 km from Old Banten, the province's former capital. Merak, a major port and ferry terminal, is located just west of the regency. Serang is bounded by Java Sea to the north, Tangerang Regency to the east, Lebak Regency and Pandeglang Regency to the south, and Cilegon to the west. Old Banten…
---
Pandeglang Pandeglang is a regency in Banten province with the capital of the same city. This rgency is bordered to the north of Serang, Lebak District in the East, and the Indonesian Ocean in the west and south. Its area also includes the island of Panaitan to the west, separated by the Strait of Panaitan, and number of small islands in the Indian Ocean, including the Deli Island and Tinjil Island. Ujung Kulon Peninsula is the most western tip in Java island, where there are wildlife reserves and there is…
---
Banten Banten is one of Indonesia Provinces that stand on the tip of Java Island. Formerly was a part of West Java Province, but on 2000 was separated and become a single province. The administrative city is located on Serang city. Banten at early begin was a port city with the busiest activity and prosperous people. Also, Banten was the most important port from Sunda Kingdom. When it was become a part of Sultanate of Banten, Banten became the biggest port city on South East Asia as big as Malaka…
---