Banten Province
---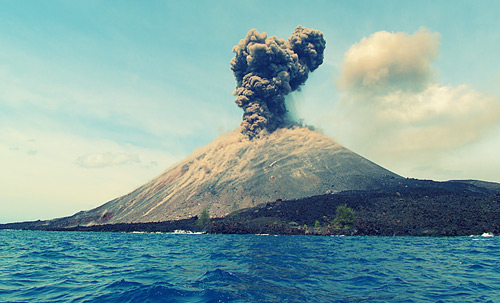 The Province has a great number of attractions, from the wildlife reserve of Ujung Kulon on the southwestern tip of Java and the isolated communities of the mysterious Baduy to the unspoiled beaches. The villages are busy and attractive and the pace of life gets slower as we move towards the National Park in the southwest. From any point along the western coast we can see the "son of Krakatau" volcano, which rises impressively from the sea. Banten offers many different recreational experiences. The trip to Anyer area from Jakarta is now quick and easy because of the toll road, which connects Merak port with Jakarta. As we move further south along the west Java coast the lifestyle becomes more relaxed and after Labuan we move into more rural areas where the road conditions worsen and the lifstyle is relaxed. Here access to the forest areas begins and we can move back in time and enjoy the peace of nature. There is a bus each day from Labuan to Taman Jaya, which is on the edge of Ujung Kulon national park. There are simple cabins can be hired and a ranger can then take us on a walk into the park. It takes about six hours to reach a camping site.
Geography
The total area of Banten is 8,800.83 Km2, consisting of 4 Regencies and 2 Cities, which are divided into as follows:
Serang Regency: 1.724,09 km2
Lebak Regency: 2.859,96 km2
Pandeglang Regency: 2.746,88 km2
Tangerang Regency: 1.110,38 km2
Cilegon Town: 175,50 km2
Tangerang Town: 177,20 km2
Banten region is surrounded by Java Sea in the North. Sunda Straits in the West, and facing the India Ocean in the South. These make Banten as a region with very great of sea product resources.
Demography
Total population in 2001 was 8,258,055 persons, consists of 4,231,079 men (51.24%) and 4,026,976 (48.76%). The densely populated regency is in Tangerang with its total population 2,873,256 persons. The highest density Region is Tangerang City 7,362.26 persons/Km2 in 1990 until 2001 period. Population growth from increased at 2.99%/year. Total workforce or aged 15 years above in 2001 was 3,330,224 or 52.57%.
The coastal city of Banten, 75 kilometers west of Jakarta on the northern coast of Java, was one of the Asia's largest cosmopolitan trading harbors in the 16th and 17th century. Ships visited its port from Malacca, China, Vietnam, India, Arab, Portugal and Netherlands. At its peek, it was almost as important as Amsterdam. Nowadays Banten is only a small fishing village. There are still old buildings left which are worth a visit for someone who is interested in the history of Indonesia before and during the colonial times.

Latest News
Sawarna Beach Sawarna beach, that located in Lebak, Banten province is now becomes more popular to be visited. In a decade, this beach that located along the forest beach in line with Pelabuhan Ratu, raise as one of most-visited beach and entitled as a new pearl in Southern Banten. To reach Sawarna, the travelers from Jakarta can be start the journey from Tangerang, Tigaraksa and Malimping, Bayah. While, from Bandung, we can start from Pelabuhan Ratu, then down the coast to the west. Unfortunately, we have to ask to the…
---
Serang Serang is the capital of Banten Province and the administrative center of Serang Regency. The administrative center of the regency and the capital of the province is the independent municipality of Serang (Kota Serang). Serang is about 10 km from Old Banten, the province's former capital. Merak, a major port and ferry terminal, is located just west of the regency. Serang is bounded by Java Sea to the north, Tangerang Regency to the east, Lebak Regency and Pandeglang Regency to the south, and Cilegon to the west. Old Banten…
---
Pandeglang Pandeglang is a regency in Banten province with the capital of the same city. This rgency is bordered to the north of Serang, Lebak District in the East, and the Indonesian Ocean in the west and south. Its area also includes the island of Panaitan to the west, separated by the Strait of Panaitan, and number of small islands in the Indian Ocean, including the Deli Island and Tinjil Island. Ujung Kulon Peninsula is the most western tip in Java island, where there are wildlife reserves and there is…
---
Banten Banten is one of Indonesia Provinces that stand on the tip of Java Island. Formerly was a part of West Java Province, but on 2000 was separated and become a single province. The administrative city is located on Serang city. Banten at early begin was a port city with the busiest activity and prosperous people. Also, Banten was the most important port from Sunda Kingdom. When it was become a part of Sultanate of Banten, Banten became the biggest port city on South East Asia as big as Malaka…
---