Watu Pecah Beach in Malang City, East Java Province
---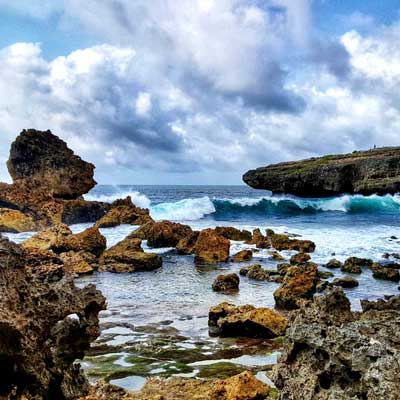 A unique and stunning beach resides in Sumbermanjing Sub-District of Malang City. The name is Watu Pecah Beach! In terms of name, "Watu" means stones or coral reefs while "Pecah" means broken or scattered. Well, tourists may expect what they can find on the beach based on the name, for sure. Actually, the exact location is in Tambakrejo Village and it is located near to other beautiful beaches (especially Sendang Biru) that tourists can visit later. Even though visitors need to pass through Clungup Beach and conduct a short trekking first before entering the site, they won't regret the trip!
The Nuance
As mentioned before, Watu Pecah Beach's main charm is the formation of scattered coral reefs on the shoreline. They look both majestic and astonishing, for sure. This explains most visitors would enjoy photography and explore the shoreline thoroughly. They want to collect good photos of those objects and find a different nuance, after all. As for the sea, the waves are indeed strong and fierce so no one should swim or play water in it. Instead, tourists can climb a nearby hill and witness an amazing panorama from up there! The wind even feels breezier in that spot.
Exploring Watu Pecah Beach
Two most famous features in Watu Peach Beach are the big waves and scattered coral reefs. Let's talk about them one at the time. First, it is related to the waves. As people may expect, such furious waves are not suitable for swimming (even for professional swimmers). Instead, tourists can take photos of those waves to take a comfortable nap by the shore. The breezy warm wind makes it more peaceful, in fact.
The next great feature is the formation of coral reefs located in different areas of the shoreline. Not only their size varies, but they also have a different shape! Due to their existence, the waves look more fabulous when they hit those rocks. The best part is tourists are able to climb them and take photos on it. Here is the consideration. They must explore and climb the coral reefs carefully due to the slippery and uneven surface.
Well, perhaps everyone is ready to visit Watu Pecah Beach even though one may come with a different purpose than others. Regardless of the motive, tourists should consider hiring a local guide who knows the route well. After all, it takes some trekking in order to get to the beach. Not to mention tourists must pass through Clungup Beach first before reaching Watu Pecah. So, it is better to spend money on the guide service than getting lost during the trip, no?
Nearby Attractions

Savana Beach
Mini Beach
Tiga Warna Beach
How to Get There
In order to reach Watu Pecah Beach, tourists must get to Sumbermanjing Sub-District first. Next, they may continue the trip and visit Tambakrejo Village to park the vehicle. The last thing to do is a short trekking to the beach after passing through Clungup Beach. For the information, the distance is 73.3 km so the whole trip takes around 2 hours and 17 minutes. As for a faster trip, it is recommended to take Raya Argotirto Street.
Where to Stay

Ariesta Homestay
Brawijaya Homestay