Teluk Asmoro Beach in Malang City, East Java Province
---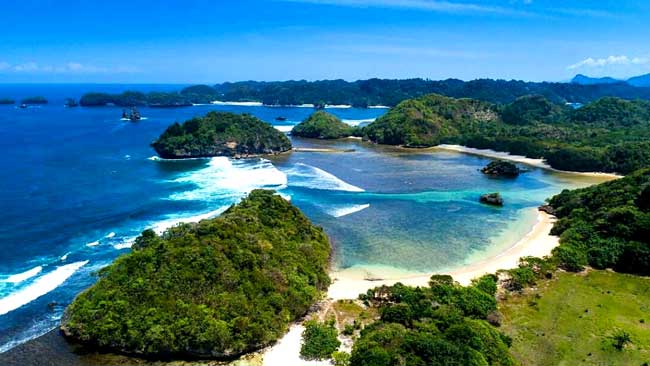 One of the best beaches in Malang City is called Teluk Asmoro and it has attracting tourists over time from other regions! That means people have other vacation spots to explore when they come to Malang aside from Batu Tourism Site and Bromo Mountain, no? Well, Teluk Asmoro Beach is located in Sitiarjo Village and it belongs to Sumbermanjing Sub-District. Not only the beach is beautiful, but it also resides near to other famous beaches that tourists can explore afterward. For the information, the beach became an official tourist site in 2017 so it is considered new. No wonder, it offers both a clean and pristine environment.
The Nuance
Speaking of the name, Teluk Asmoro means the cape of love actually. Perhaps the locals named it that way due to the fact that most of the visitors are young couples and those who want to have a good time with their lover. After all, the nuance is romantic enough due to the slow breezy wind and warm atmosphere of the sea. Plus, the sunset makes it soother especially for those who come in the afternoon. What is more? It comes with soft-textured white sandy shoreline! Plus, the waves are not quite big, which are suitable for swimming. Another great feature is the presence of small islands seen on the horizon. Tourists can even visit them later.
Exploring Teluk Asmoro Beach
Many specialties make Teluk Asmoro Beach popular, as compared to others. For instance, it is related to the formation of small islands that can be seen on the horizon. This beautiful panorama looks great even from afar, without a doubt. Some people even call it the little Raja Ampat! In order to get a better view, though, tourists need to reach a higher ground. That means a short trekking is required to acquire such an amazing view.
Sightseeing is one thing. The next fun thing that tourists should do in Teluk Asmoro Beach is to get in the water and conduct snorkeling. Have no worries. The sea is calm enough to enjoy the activity. Not to mention the visibility is clear, so everyone is able to witness tropical fishes and corals without hassles down there. When it is about the gear, they must have prepared it beforehand.
Here is another allure. Teluk Asmoro Beach is located in the array of beaches including Goa Cina, Clungup, and Rowo Indah. Due to the fact, everyone should not miss any of those beaches after visiting Teluk Asmoro later. Another tip is related to the best time to visit the site, which is during the sunset. At the time, the islands' silhouette looks more astonishing to see!
Nearby Attractions

Bangsong Beach
Tomen Beach
Clungup Beach
Bagong Island
How to Get There
From Malang City, a trip to Teluk Asmoro Beach may take around 2 hours and 15 minutes. The reason is the distance is 71.3 km. Still, tourists can get to the location faster if they use the right transportation service and take Kolonel Sugiono Street. Their prime destination is Sitiarjo Village at Sumbermanjing Sub-District!
Where to Stay

Ariesta Homestay
Brawijaya Homestay