Parang Dowo Beach in Malang City, East Java Province
---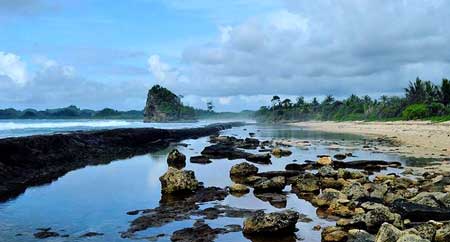 If tourists reach Lintas Selatan Street in Malang City, they may find several beaches that come with a distinct uniqueness. Let's take an example, which is Parang Dowo Beach. Even though it is not as popular as Bajulmati and Batu Bengkung Beach, this one has a special feature that tourists won't find in others. Before talking about it, tourists should know the location first. The beach resides in Gajahrejo Village and it belongs to Gedangan Sub-District. In terms of name, it means "the long machete". The locals named it due to the presence of long coral reefs on the shore that protect the shoreline from big waves.
The Nuance
The best feature in Parang Dowo Beach is definitely the long coral reefs. As mentioned earlier, these protect the shoreline from big waves. No wonder, some parts of the beach come with calm and safe water for swimming. Even kids can play water safely on it! The next fact is that the beach is located between Batu Bengkung and Jolangkung Beach. Thus, tourists can explore those beaches during the visit. Also, it resides near to the local fish auction center where tourists can buy some fresh fishes later.
Exploring Parang Dowo Beach
Usually, during weekends, the locals come to Parang Dowo Beach in order to spend a family recreation and enjoy a barbeque by the shore. It is true the wind is strong, so everyone should take care of the fire well while grilling those foods. Also, it must be done during a good weather. What is next? Well, for those who look for a peaceful nuance, the beach provides it to them. It is because Parang Dowo has a low number of visitors, so tourists may feel like spending on a private beach.
The presence of the long coral reefs prevents big waves from getting to the shoreline, as mentioned before. Due to this fact, tourists can take advantage of the shallow water for swimming and play water safely. No wonder, kids can freely explore the shoreline and play water comfortably. They are protected by those coral reefs, after all. Here is the tip. It is better to reach the eastern part of the shore. It is because the landscape is sandy and it feels more comfortable. On the other hand, in the west part, the sea comes with a rocky and uneven landscape.
Even though the west part of Parang Dowo Beach doesn't come with a comfy landscape, it offers more astonishing underwater scenery though. It is because many fishes and corals can be seen easily in that area. Thus, it is recommended to explore both sides later during the visit.
Nearby Attractions

Telok Beach
Jailangkung Beach
Kajaran Beach
Watu Lepek Beach
How to Get There
A trip to Parang Dowo Beach takes about 2 hours if tourists come from Malang City, as the distance is 70.2 km. If they want to get there faster, they must find the best transportation service and take only Mayjen Sungkono Street. Their prime destination is Gajahrejo Village at Gedangan Sub-District where the beach is located.
Where to Stay