Tiga Warna Beach in Malang City, East Java Province
---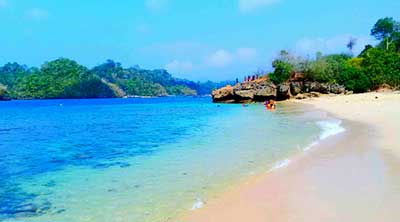 Bunches of stunning beaches are located in the south part of Malang City. There are many of them, so tourists may spend much time to explore them all. When it comes to popularity, Tiga Warna Beach is definitely superior. In terms of name, it means the beach of three colors! The location is in Tambakrejo Village and it belongs to Sumbermanjing Sub-District. According to the locals, most visitors love the beach due to the perfect beauty and excellent nuance. This explains why the majority of tourists come to the location to enjoy sightseeing and photography. Some of them would also enjoy swimming and relaxation, in fact.
The Nuance
As mentioned before, the name means the three colored beach. It is because the beach offers a unique panorama of color gradation. The blue or green color comes from the sea. Next, the reddish or brown color comes from the sand located between the water and shoreline. Another color is white, which is the shoreline itself. This uniqueness indeed makes the beach is suitable for photography, without a doubt. Aside from that, Tiga Warna Beach has small waves so it is perfect for swimming and snorkeling. Plus, beautiful hills are also seen on the horizon! What a great landscape!
Exploring Tiga Warna Beach
It is safe to say that Tiga Warna Beach is the most famous one as compared to other south beaches in Malang City. So, what makes it special? Most tourists come to the beach in order to watch the color degradation directly. They also take advantage of that unique panorama to enjoy photography. In this case, they must come during a good weather in order to avoid the rain! Also, it is recommended to come late at noon as the sun makes the shoreline glittering.
Aside from sightseeing and photography, people come to Tiga Warna Beach in order to enjoy casual water sports especially snorkeling. Thanks to the clarity of seawater. That means tourists can explore and watch underwater scenery in an easier and comfortable manner. Moreover, tourists don't have to carry their own snorkeling gear as they can rent it from available services. Not to mention the price is quite affordable!
Another popular thing to do in Tiga Warna Beach is definitely camping. The fact is tourists can find a camping ground located near to the shoreline. Even though it costs some money to rent the spot, it would be a worthy experience! One thing, the management limits the number of visitors each day. Moreover, tourists need to make a reservation first if they want to come to the beach in a group.
Nearby Attractions

Savanna Beach
Clungup Beach
Cilik Island
Sendang Biru Beach
Waru-Waru Beach
How to Get There
The distance between Malang City and Tiga Warna Beach is 73.3 km. That means the trip may take about 2 hours and 22 minutes to get to the site. Tourists' prime destination is Tambakrejo Village at Sumbermanjing Wetan Sub-District, for sure. For the fastest trip, it is recommended to take Argotirtor Street though.
Where to Stay

Ariesta Homestay
Brawijaya Homestay
Sendangbiru Apartment