Modangan Beach in Malang City, East Java Province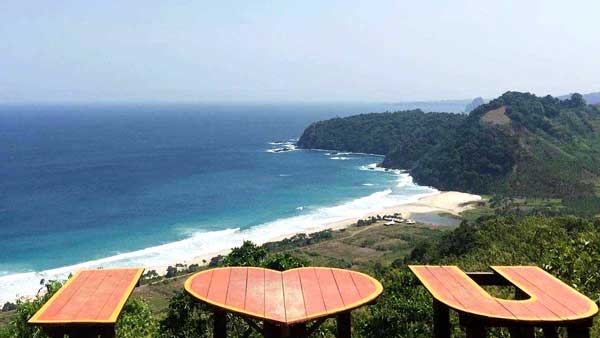 ---
A beautiful beach like Modangan indeed should be everyone's vacation destination for the next holiday. It belongs to Malang City and has been visited by lots of people due to its long and stunning shoreline. The exact location is in Sumberrejo Village and it belongs to Donomulyo Sub-District, actually. Some locals also call it Modang Beach and it becomes the endpoint of Modangan River. No wonder, people gave the name based on it. Another important fact is that the beach is neighboring to Jolosutro Beach located in Wates Sub-District! That means tourists can explore them both easily during the visit.
The Nuance
The white sandy shoreline welcomes everyone with its soft texture. As mentioned before, it is considered long so tourists can enjoy beach walking to their heart's content! Even they can do it barefoot! The next noticeable feature is definitely the big waves and big coral reefs that scatter in the sea. For the information, those coral reefs are made of limestone and they look quite majestic. Other objects that tourists can find are andesite stones, which were formed due to the explosion of a volcano back then. The only disappointment is that the beach doesn't come with any facilities. Thus, tourists should carry snacks and drinks when visiting the beach later.
Exploring Modangan Beach
The most noticeable allure in Modangan Beach is definitely the long sandy shoreline. Knowing the fact, most tourists may conduct beach walking once they arrive at the location. Visitors don't even need to take off their footwear when walking on the shoreline! Thanks to the soft texture of the sand. During beach walking, they should enjoy the jaw-dropping sea scenery and the breezy wind of the sea too! What a great way to get rid of stresses!
The next popular thing to do in Modangan Beach is photography. Almost all tourists carry a camera when they visit the beach, after all. Here is the fact. The beach features a great spot to take photos, which is located on a nearby hill. This selfies spot features a wooden sign with "I Love U" letters on it. No wonder, teenagers would take advantage of it to create a romantic photo!
One thing that makes Modangan Beach unique is the presence of paragliding service! Visitors only need to pay the fee and listen to the instructors well in order to enjoy that challenging sports. For the information, the wind is strong but sturdy so it is suitable for paragliding. Tourists can rest assured as they can get a professional guide and excellent safety gear. That means even beginners can enjoy paragliding too!
Nearby Attractions

Gurah Beach
Jonggring Saloka Beach
Jolosutro Beach
How to Get There
For those coming from Malang City, they may spend about 2 hours and 24 minutes in order to reach Mondangan Beach. It is because the distance is 72.6 km. Their first destination is Donomulyo Sub-District. Next, they only need to visit Sumberrejo Village where the beach resides. As for the best route, it is recommended to take Kolonel Sugiono Street.
Where to Stay