Kondang Merak Beach in Malang City, East Java Province
---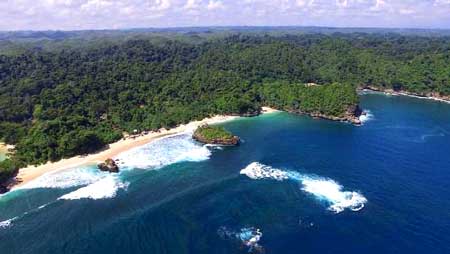 The next beach in Malang City that tourists should visit during a holiday should be Kondang Merak Beach. This one has been recognized by both locals and outsiders for decades! Thanks to the soothing nuance. Tourists can have a memorable camping and beach exploration experience there. Those who love photography can also get lots of good photos! So, where is the exact location, actually? The beach resides in Sumberbening Village and it belongs to Bantur Sub-District. The beach got the name due to the presence of an estuary called Merak in that area. After all, "Kondang" means an estuary while "Merak" means peacocks.
The Nuance
As the name suggests, there must be a reason why the locals included Merak or peacocks, no? Well, according to them, the beach was once a habitat for several peacocks. However, there are no more of them since the 1980s. What tourists can find now is the long shoreline with its exotic light brown sand. The beach is also known for the big waves, actually. This is why visitors are not allowed to get in the water or swim in it. Instead, they can enjoy beach walking while sightseeing.
Exploring Kondang Merak Beach
It is a little bit disappointing that tourists aren't able to see any peacocks in Kondang Merak Beach during the visit. Have no worries. Other allures may get rid of the disappointment right away. For instance, it is the loud noise of the waves. These waves even look fabulous, especially during the windy weather. Not only they are soothing, but they also great for photography. That means tourists can simply take photos of the waves from afar. Once again, it is not recommended to get in the water or go swimming in the sea!
Aside from those great waves, Kondang Merak Beach offers other allures including the formation of coral reefs located by the shoreline. These best natural ornaments are worth photo shoots, as well, in fact. Tourists can also find a cliff where they enjoy sightseeing better. It takes some efforts to get to the top of that cliff, though. For those who don't want to spend much energy, they can simply stay by the shoreline and take photos of the cliff from afar. It looks great from the distance as well, after all.
What is more? Kondang Merak Beach also offers a certain area where tourists can build a tent and go camping. It is not an official camping ground, but people keep coming to the location to conduct camping and some traditional rituals. Usually, villagers come in the afternoon and take a bath on the beach (which is the part of the ritual). They won't wear any clothes during the ritual, in fact. What an interesting beach!
Nearby Attractions

Sempu Island
Banyu Meneng Beach
Sugu Beach
Pasir Besi Beach
Selok Beach
How to Get There
It won't take much time to get to Kondang Merak Beach if tourists come from the downtown or Malang City. The distance is 62 km, so it takes around 2 hours and 13 minutes to reach the location. After entering Bantur Sub-District, tourists can simply visit Sumberbening Village where the beach is located. This trip even becomes faster if they take Kondang Merak Street.
Where to Stay

Malinda Hotel
Cakra Residence Hotel