Ngudel Beach in Malang City, East Java Province
---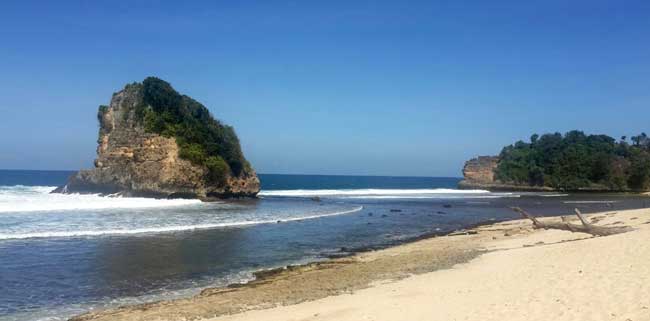 Gedangan Sub-District in Malang City is known for its secluded beaches. Well, even though Ngudel Beach has not yet chosen as the most famous one, it is suitable enough to spend a wonderful vacation either with friends or families. The exact location is in Sidurejo Village and it belongs to Gedangan Sub-District. For the information, the beach is located in Lintas Selatan Street so it resides in the same area as Ngantep and Jolangkung Beach. Also, even though it is considered a secluded beach, tourists may find a ticket booth. That means visitors should pay the entrance fee first before exploring the site.
The Nuance
Like other beaches that reside in the southern part of Malang City, Ngudel Beach connects to the Indian Ocean directly. No wonder, it comes with big waves and strong wind. The best thing is the beach has a pure soft-textured sandy shoreline. It feels like walking on silk, in fact! The next impressive feature is the presence of coral reefs that become the best object for photography. Even though tourists are allowed to climb them, they must be careful due to the slippery surface. What is more? The beach is known for its serenity! In fact, it feels peaceful even if tourists come during weekends or holidays.
Exploring Ngudel Beach
Everyone should know some facts regarding the beach. First, it offers a quiet nuance. That means visitors won't find many people once they arrive at the beach, even though they come during the holidays. Only several villagers are seen there. This serenity, somehow, is a good thing for those who look for a peaceful holiday. Aside from relaxation, visitors can enjoy other tourist activities indeed. What are they?
Ngudel Beach is suitable for camping due to the comfy landscape and a vast spot for building tents. In this case, the best spot is under shady trees located in the back of the shoreline. Next, fishing is also recommended. Tourists can do it on a coral reef, especially during dusk. Why is that? While waiting for the fishes, they can watch the romantic sunset! The only consideration is related to the equipment. Due to the absence of facilities, they must carry their own fishing rod and other equipment.
The next thing that tourists can enjoy in Ngudel Beach is to rent a motorcycle and conduct racing on an available route. This off-road sport is suitable for those who love challenging activities, for sure. What is more? Even though the beach doesn't come with services and facilities, some gazebos are available for tourists to use freely. Some people even take advantage of it to enjoy eating together with families, in fact!
Nearby Attractions

Kletekan Beach
Jolangkung Beach
Kuncaran Beach
Buncaran Beach
How to Get There
From Malang City, a trip to Ngudel Beach may take around 1 hours and 54 minutes as the distance is 57.4 km. What tourists need to do is to head to Gedangan Sub-District first. Next, they only need to reach Sidurejo Village and walk for several minutes to the beach. For the information, the whole trip becomes faster if they take Kolonel Sugiono Street.
Where to Stay