Bantol Beach in Malang City, East Java Province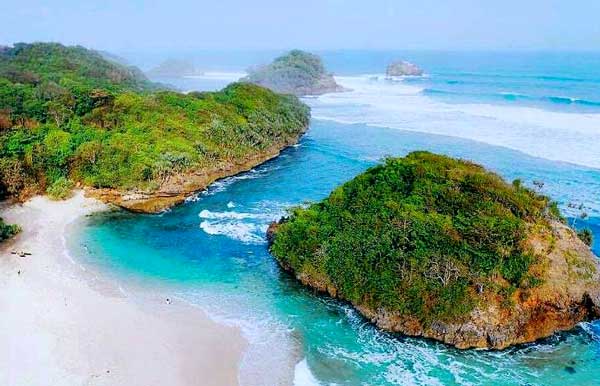 ---
Even though each person has a different preference when it comes to tourism, almost all people love visiting beaches. Here is the reference. Malang City has lots of stunning beaches for tourists to exploring including the one called Bantol Beach. The location is in Sumberceleng Village and it belongs to Donomulyo Sub-District. One thing, it may take some time to get to the site from Malang City. Not to mention tourists need to pass through a lush teak forest and muddy landscape in order to reach the location. Have no worries. This difficulty is paid off once they arrive at the beach. It is because Bantol Beach offers a perfect nuance and stunning panorama for relaxation and sightseeing.
The Nuance
In terms of nuance, Bantol Beach is both serene and beautiful. It is because the location is secluded. Moreover, the beach is surrounded by lush trees and big plants. That means the ambiance is quite soothing and cool due to the presence of those trees. Also, the waves are small due to the fact that the beach is protected by big coral reefs on its sides. That means visitors can enjoy swimming and playing water comfortably! As for the shoreline, it has the color of white brownish. The next good news is the beach features a comfy inn where tourists can rest and eat during the visit. The distance is only 200 meters from the beach, in fact!
Exploring Bantol Beach
The locals often come to Bantol Beach during weekends and holidays. They have a common purpose, which is to spend a family recreation and relaxation. They may book and rent a room at Gunung Kembar inn and enjoy the lessening to their heart's content. What is more? Well, tourists also have other reasons for visiting the beach like fishing. Some good spots are available to catch numerous fishes and other sea creatures like shrimps and lobsters, in fact. Here is the tip. Tourists should go fishing with villagers or local fishermen if they want to get lots of fishes! These people know the best spots, after all.
What is more? Bantol Beach has other allures that tourists can enjoy like the presence of a mangrove forest with its brackish water. However, it takes about a minute or two in order to reach the site. In fact, a serene lake resides in that area. Not to mention it is surrounded by teak trees! What a soothing place to find peace and enjoy relaxation! During the exploration, tourists can even find Batu Kapur Cave. It is not recommended to get in the cave without a guide, though.
For those visiting Bantol Beach, they also need to know the history of the site. It is said a person found a great treasure in that area. His name is Bayan Diyat and he was an adventurer. However, no one knows the detailed information regarding the treasure. Some people even consider it a myth!
Nearby Attractions

Gunung Kembar Inn
Kedung Celeng Beach
Seling Kates Beach
Pulodoro Beach
Seling Ombo Beach
How to Get There
From Malang City, a trip to Bantol Beach may take around 1 hour and 50 minutes. It is because the distance is 61.5 km. Tourists only need to get to Donomulyo Sub-District and head to Sumberceleng Village where the beach is located. As for the best route, it is recommended to take Supriadi Street.
Where to Stay