Batu Bengkung Beach in Malang City, East Java Province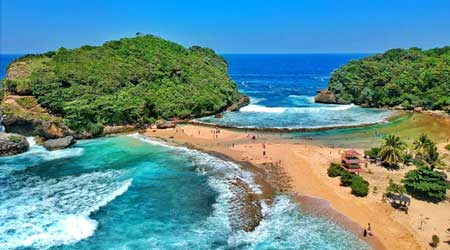 ---
In Jalan Lintas Selatan Street in Malang City, some beautiful beaches await tourists! Well, let's take an example of Batu Bengkung Beach which is located in Gedangan Sub-District. To be exact, tourists should head to Gajahrejo Village in order to reach the beach. Featuring a beautiful panorama and excellent landscapes, the beach is suitable for nature lovers and those who look for a peaceful vacation. That means visitors would be able to enjoy sightseeing and photography once they arrive at the location. Not to mention they have the chance to learn a little bit about the history.
The Nuance
There must be one thing that makes Batu Bengkung Beach is different than other beaches located in southern Malang. At a glance, tourists may notice it right away due to the fact that the beach comes with various sizes of coral reefs and hills. This explains why it doesn't have a long shoreline, but provides more majestic scenery as compared to other beaches. Another unique feature is the friendly waves beside those hills. During the low tide, in fact, tourists are able to enjoy swimming and snorkeling safety (even though the beach connects to the Indian Ocean which is known for its fierce waves).
Exploring Batu Bengkung Beach
If tourists come with a local guide, they can get detailed information regarding the history of Batu Bengkung Beach. It is said the locals gave the name due to the presence of big stones that surround the beach. The fact is those coral reefs form a natural border and creates a small pond where tourists can enjoy swimming and play water. That formation of stones has the shape of a crescent, as well. No wonder, people named it Batu Bengkung which means the curved stone.
As for tourist activities, people come to Batu Bengkung Beach mostly to enjoy swimming. That doesn't mean they would carelessly get in the sea! Instead, they choose the right spot for the sake of safety. After all, the local guards would tell visitors whether the sea is safe or not for swimming beforehand. Thus, in this case, everyone should talk to those guards first before getting into the water. It is better safe than sorry, isn't it?
Sightseeing becomes the next popular thing to do in Batu Bengkung Beach. It is because visitors may find majestic cliffs that surround the beach. The sea scenery even looks breathtaking, especially during the sunrise! Here is the good news. The locals have installed ropes on those cliffs, so tourists can climb them and get a better view up there!
Nearby Attractions

Watu Klepek Beach
Ngopet Beach
Pasang Beach
Karang Tengkorak Beach
How to Get There
For those coming from Malang City, they may spend about 2 hours to get to Batu Bengkung Beach. After all, the distance is 69.6 km. In order to get to the site faster, tourists should take Mayjen Sungkono Street. Their first destination is Gedangan Sub-District and they can get to Gajahrejo Village where the beach is located afterward.