Goa Pathuk Ilang Beach in Malang City, East Java Province
---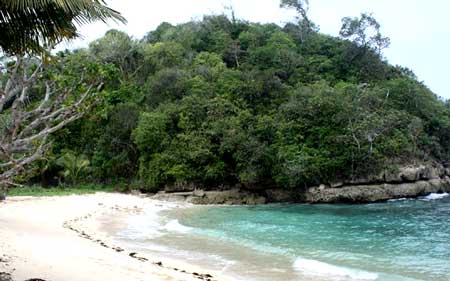 When tourists head to the south region in Malang City, they may find a group of beaches located in different sub-districts. Well, if they come to Donomulyo Sub-District, they should visit Goa Pathuk Ilang! The location is in Kedungsalam Village and has a secluded atmosphere. Actually, it has a good popularity due to various natural attractions that tourists can explore during the visit. No wonder, many people call it a one-of-a-kind beach! Thus, all tourists should not miss the opportunity to visit the beach when spending a vacation in Malang City.
The Nuance
Something must make Goa Pathuk Ilang special, no? So, what is it? In terms of name, "Goa" means cave and "Ilang" means lost. As the name suggests, the beach features a lost or secluded cave namely Pathuk Cave. The location is in the west part of the shoreline and it has a vast size as well. According to the locals, the cave is quite sacred and people often come to the location for performing a ritual! Aside from that sacred cave, the beach has a soft-textured light brown shoreline with the length of about 70 meters! Despite the small size, it is comfy enough to enjoy beach walking and relaxation. Not to mention 2 coral islands are seen in the sea (which suit those who love photography).
Exploring Goa Pathuk Ilang Beach
The good thing is Goa Pathuk Ilang Beach has featured an easy access and several facilities. That means it is recommended for families who want to spend recreation during the holidays. In terms of scenery, the beach is the pride of its short light brown sandy shoreline. Despite the small size, once again, it is good enough for beach walking and relaxation. In the horizon, tourists may see two beautiful coral islands too. Aside from sightseeing, it is recommended to take photos of those islands!
What is more? For those coming with families, they should take advantage of the shoreline to play sand. The soft texture of the shoreline won't hurt anyone's feet, for sure. Next, visitors should enjoy fishing in Goa Pathuk Ilang Beach. In this case, they must carry their own fishing rod and other required equipment. Have no worries. Those who do not like fishing can simply sit by the beach and enjoy the nuance. Well, if they want to spend the night at the beach, they should build a tent and go camping!
The best reason to visit Goa Pathuk Ilang is definitely to explore the nearby cave. In this case, tourists should come with a local guide and carry a flashlight. The cave is both dark and vast, so everyone should be careful during the exploration. This can be done either before or after visiting the beach, actually.
Nearby Attractions

Teluk Putri Beach
Watu Lawang Beach
Padas Pecah Beach
Krambilan Beach
How to Get There
A trip to Goa Pathuk Ilang may take around 2 hours and 5 minutes if tourists come from Malang City. It is because the distance is 66.8 km. For the most comfortable and fastest trip, though, it is recommended to take Raya Pantai Ngliyep Street. Once arriving at Donomulyo Sub-District, tourists only need to reach Kedungsalam Village where the beach resides.
Where to Stay