Jonggring Saloka Beach in Malang City, East Java Province
---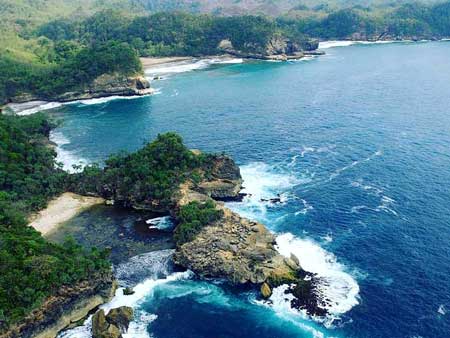 The south beaches of Malang City have become a new trend among nature lovers these days. Even though most of those beaches share a similar characteristic, which is the big wave, but they also have a distinct uniqueness as compared to others. Let's take an example – Jonggring Saloka Beach. The location is in Mentaraman Village and it belongs to Donomulyo Sub-District. One thing that makes it different than other beaches is none other than the quadruple threat. It is because tourists can find three prime allures like Watu Nggebros, Cob Belut, Gondang Towo, and Pasir Hitam.
The Nuance
Like other beaches located in the south part of Malang City, Jonggring Saloka Beach indeed has big waves. That means swimming and snorkeling are not recommended there. Instead, tourists can explore the beach and find several unique spots for photography. In fact, the locals regularly conduct a traditional ritual called Suroan. They come to the beach in order to wash their Javanese heirlooms. Not to mention they give some offerings to the queen of the south sea (Nyi Roro Kidul). Another good thing is that the beach comes with several facilities especially toilets.
Exploring Jonggring Saloka Beach
As mentioned earlier, tourists can find 4 prime allures in Jonggring Saloka Beach. First, it is called Watu Nggebros. This unique phenomenon is suitable for photography, as tourists may see a big hollow in the midst of a coral reef. The hole even spouts water whenever waves hit it! For the information, the height of the coral is up to 10 meters! That means tourists need to conduct a short trekking in order to get to that spot.
The next allure is called Cob Belut. This hole is located on the shoreline and it may suck seawater whenever the waves come. The best part is it also spouts water vertically and creates an umbrella-like shape. One thing, tourists can only watch it on a high ground. Thus, they need to find the best spot if they want to witness it.
What is more? Actually, Jonggring Saloka Beach is also known for its exotic black sand. The shoreline even contains ferruginous sand or Pasir Besi. This explains why the color is not white like most of the southern beaches of Malang City. Another allure that tourists can find is called Gondang Towo, which is a river with two types of water. As people may expect, the river has both freshwater and brackish water. The location is about 20 meters from the shoreline, actually. As other tourist activities, tourists can enjoy fishing, camping, relaxation, and photography!
Nearby Attractions

Watu Ngebros Beach
Kidang Beach
Karang Nanggung Beach
Ceruk Beach
How to Get There
If tourists come from Malang City, they can get any available transportation service and head to Donomulyo Sub-District and visit Mentaraman Village right away where Jonggring Saloka Beach resides. This trip may take about 2 hours and 10 minutes, as the distance is 67.7 km. It is recommended to get the best transportation service, for a faster trip though.
Where to Stay

Jasa Yasa Inn
Lelly NVI Resort