Segara Anakan Beach in Malang City, East Java Province
---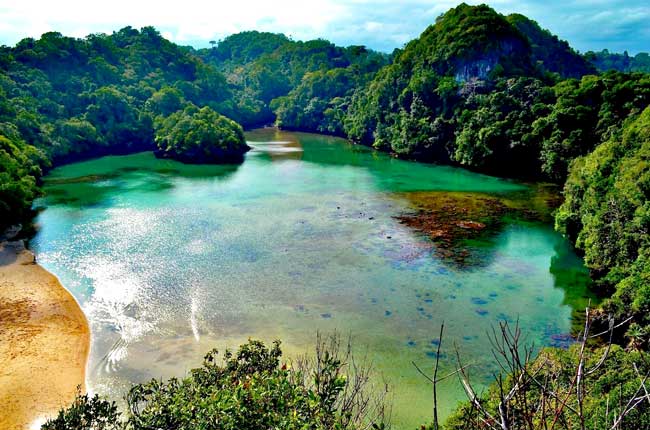 Well, Malang City has a famous lake called Segara Anakan. Actually, the lake also comes with a beautiful beach with a similar name which is Segara Anakan Beach. The location is definitely in Tambakrejo Village and it belongs to Sumbermanjing Sub-District. A hidden paradise, this is what people call the beach. People are impressed by the serene nuance and beauty of the site. The fact is they can find a famous island called Sempu there. With all these attractions, visitors can enjoy fun things like exploration, sightseeing, photography, and swimming!
The Nuance
For the information, Segara Anakan Beach is formed due to the trapped seawater in the small island. The water enters from a hole in a nearby cliff, which is called Karang Bolong. The good thing is the beach doesn't have any waves! That means swimming is definitely safe for everyone regardless of their experience. The next impressive feature is the panorama itself. Visitors can even climb the cliff and watch nearby scenery in a more satisfying manner. They can also take some photos from that spot! What is more? Visitors may see numerous tropical trees that surround the beach!
Exploring Segara Anakan Beach
As mentioned before, tourists won't find any waves in Segara Anakan Beach. Thanks to it. Everyone is able to enjoy swimming without worries. Unlike other beaches with big waves, this one is even suitable for kids! The color of the water is green instead of blue, which makes it more exotic. Not to mention the beach features soft-textured white sand which is perfect for beach walking and playing sand. One thing, everyone should take care of the environment well. Eating foods or snacks during the visit is allowed, but littering is prohibited!
The next recommended thing to do in Segara Anakan Beach is sightseeing. Here is the tip. For better views, tourists should climb the cliff and enjoy the panoramas from up there! It may take some time and efforts, but the rewards are quite worthy. During trekking, everyone may notice a hole which was formed due to erosion. This hole, in fact, is where the beach gets the water from the sea. The presence of the cliff itself prevents big waves from entering the spot where Segara Anakan Beach resides.
Another thing that tourists can do in Segara Anakan Beach is to reach the famous Sempu Island. It takes some time to get there, as it involves trekking. However, this becomes an opportunity to enjoy a natural exploration with families or friends! Thus, do not forget to wear comfy footwear while visiting the site later.
Nearby Attractions

Batumeja Island
Pasir Kembar Beach
Doro Island
Sleguk Island
How to Get There
A trip to Segara Anakan Beach may take around 2 hours and 19 minutes if tourists come from Malang City. It is because the distance is 73.1 km. Have no worries. They can get there faster if they take Raya Argotirto Street. Their prime destination is none other than Tambakrejo Village at Sumbermanjing Sub-District where the beach is located.