Ungapan Beach in Malang City, East Java Province
---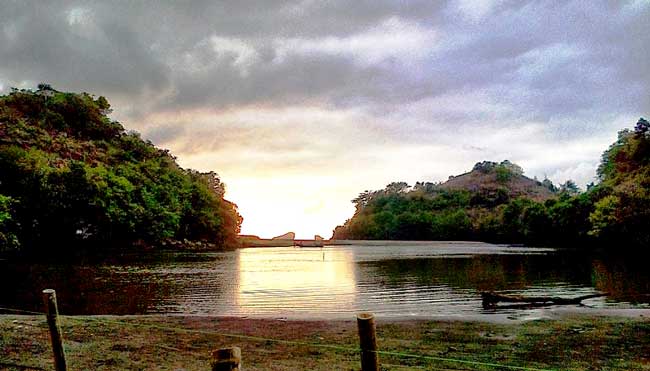 A series of stunning beaches in Malang City is available for tourists to visit either during working days or holidays. One of them is called Ungapan Beach and it is located in Gedangan Sub-District. To be exact, it resides in Gajahrejo Village and belongs to Lintas Selatan Street. That means it is also located near to Jolangkung Beach. No wonder, the nuance is considered similar to those neighboring beaches. Plus, visitors can do numerous types of tourist activities including swimming, photography, riding boats, watching the sunset, and camping. This explains why the beach is perfect to spend family recreation on weekends.
The Nuance
In terms of nuance, Ungapan Beach has two types of waves. That means may see both big and calm waves there! It is true most part of the shore comes with big waves, but the rest of it features calm waves (where tourists can enjoy swimming comfortably). When it comes to the shoreline, it has an exotic white sandy landscape with a soft texture. Not to mention the beach is surrounded by serene hills with a fertile green landscape on them. Another great feature is the management provides several duck boats for tourists to rent!
Exploring Ungapan Beach
Once arriving at Ungapan Beach, tourists can do several fun activities either with families or friends. For instance, visitors should come in the afternoon to witness the mesmerizing sunset. In this case, they must come at the right time and choose the best spot to witness that phenomenon. As an alternative, coming to the beach in the morning is also recommended. The reason is the shoreline offers a fresher air and more peaceful nuance.
The next common thing to do in Ungapan Beach is to swim in the sea. Even though the beach is part of the Indian Ocean, tourists can take advantage of some parts of it for swimming. Also, they must not get too far due to the big waves. Another tip is that they must do it in the afternoon when the tide is low. According to the locals, moreover, there is the best spot for swimming which is in the estuary. Not only it is shallow, but the spot also comes with more refreshing water!
What is next? Ungapan Beach is suitable for other fun activities, especially for photography. The best spot to take photos is at Bajul Mati Bridge, actually. Not to mention there is Getun Mountain, which is located near to the beach as well. It becomes a wonderful place to take great photos indeed. For those coming with families, in this case, they must rent a duck boat and get around the shore comfortably! Make sure to hire a guide who knows the best and safest spot to explore, though. During a special occasion, tourists can even see Malang Beach Festival there!
Nearby Attractions

Getun Mountain
Jolangkung Beach
Wil Cave
How to Get There
From Malang City, a trip to Ungapan Beach may take around 2 hours and 5 minutes. It is because the distance is 72.5 km. In fact, the trip becomes faster if tourists take the best route (which is Mayjen Sungkono Street). First, they must reach Gedangan Sub-District. Next, they only need to visit Gajahrejo Village where the beach is located.
Where to Stay