Ngopet Beach in Malang City, East Java Province
---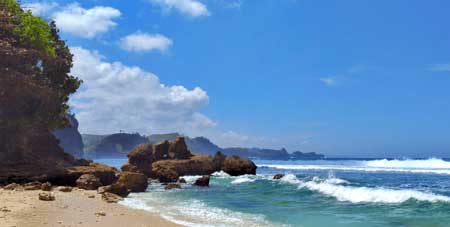 A peaceful vacation helps everyone to forget their daily busy works for a while. In this case, Ngopet Beach in Malang City would be a good destination. The exact location of this serene beach is in Gajahrejo Village and it is located in Gedangan Sub-District. In terms of region, this one is located in the same area as Wedi Klopo and Batu Bengkung Beach. In fact, Ngopet resides between those stunning beaches. As for the entrance, tourists need to get to Batu Bengkung first before reaching the destination. So, what makes it different than the neighboring coasts?
The Nuance
It is true Ngopet Beach has a distinct feature, as compared to Batu Bengkung and Wedi Klopo Beach. For instance, it is related to the calmer waves. Knowing the fact, tourists would be able to enjoy swimming and snorkeling in a safe manner. The next feature is the white sandy shoreline with its soft texture. In fact, the texture is similar to that of pepper! Not to mention the beach has excellent serenity, which feels even better due to the presence of hills that surround the site. What is next? There is a special spot where tourists can build a tent, as well!
Exploring Ngopet Beach
It is a known knowledge that most people would enjoy swimming if they come to a beach. What about in Ngopet Beach? Thanks to the small waves. The sea is safe enough for swimming, as long as people don't get too far in the midst of the sea. Ngopet is the part of the Indian Ocean after all. The safest spot is definitely at the seashore, which is the shallowest. Also, it is recommended to swim only during the low tide.
Snorkeling becomes the next recommended thing to do in Ngopet Beach. Once again, it is because the waves are small. Another reason is that the sea has a nice clarity and visibility, so snorkelers are able to see fishes and some corals clearly underwater. The only consideration is about the gear. Due to the absence of facilities, tourists should carry their own snorkeling gear. As for beginners, they must consider hiring an instructor or experienced divers who live in Gajahrejo Village!
What is more? Ngopet Beach is, somehow, suitable for beach walking and exploration. The soft texture of the sand feels so comfortable on feet, after all. Plus, the beach features a small forest and hill with lots of trees growing on it. It is possible to explore those spots, but everyone should carry enough supplies and wear comfy footwear during the adventure.
Nearby Attractions

Pasang Beach
Wedi Klopo Beach
Karang Tengkorak Beach
How to Get There
A trip to Ngopet Beach may take about 2 hours and 10 minutes, as the distance is 68.2 km (especially for those coming from Malang City). First, tourists should head to Gedangan Sub-District. Next, they can simply visit Gajahrejo Village and walk to the beach right away. Have no worries. The whole trip becomes faster if tourists take Kolonel Sugiono Street.