Seling Kates Beach in Malang City, East Java Province
---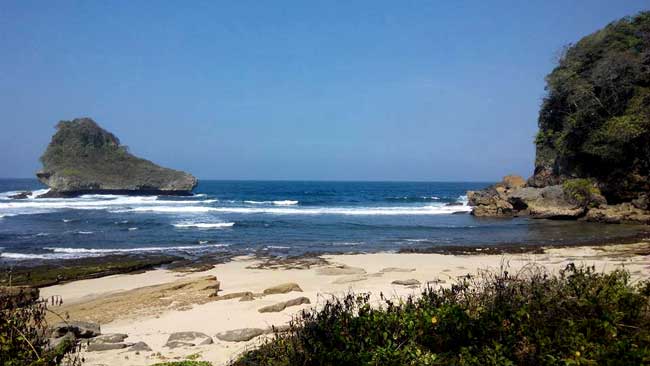 Even though each person has a different reason for visiting beaches, they won't refuse to visit a new beach they have never visited before. For example, there is Seling Kates Beach in Malang City. Well, tourists only need to visit Banjarejo Village at Donomulyo Sub-District if they want to explore the site. Despite the small size, the beach would never disappoint visitors. Thanks to the beautiful panorama and refreshing ambiance. According to the locals, most visitors come to the beach to go fishing and photography. Also, it suits those who love to enjoy an exploration.
The Nuance
Once arriving at Seling Kates Beach, what tourists can feel is definitely the seclusion. Even though it is located beside Mbantol Beach, this one feels more serene! The shoreline is considered short, but it has a soft texture and stunning light brown color. When it comes to the sea, it has moderate waves and several good spots for fishing. Only nearby villagers know about those fishing spots through. That means tourists need to find the information first before they decide to go fishing in Seling Kates. What is more? Another impressive feature is the presence of a formation of coral reefs on the shoreline. One of the features a big hollow, which is similar to a cave!
Exploring Seling Kates Beach
The most common thing to do in Seling Kates Beach is photography. That means tourists may explore the beach and find some good objects to capture using their camera. This can be anything including the waves, coral reefs, shoreline, sunset, and much more! As for the best object, they have the big coral reef with a hole in it. Such cave-like rock indeed becomes a perfect object for selfies!
Some people also come to Seling Kates Beach in order to enjoy exploration in the shoreline. Even though it only comes with a shore sandy landscape, the site is good enough for natural exploration. Some parts of the shoreline even feature bushes and rocky surface. This variety indeed looks alluring, especially for those who love adventure. Another good thing is the beach is accessible by motorcycle. Thus, tourists can park their vehicle by the shore and site on it while sightseeing.
Well, those who love fishing can take advantage of the beach to catch some fishes and bring them home. However, they won't find many good spots for fishing. Only the locals know the best spot, so everyone should talk to them first before. Later, in the afternoon, tourists can also witness the sunset!
Nearby Attractions

Seling Ombo Beach
Wedi Kecut Beach
Bantol Beach
How to Get There
If tourists come from Malang City, they may spend about 2 hours and 10 minutes to reach Seling Kates Beach. It is because the distance is 63.2 km. Once they arrive at Donomulyo Sub-District, they only need to visit Banjarejo Village. From the village (after parking the vehicle), they can directly go to the beach either by walking or riding a motorcycle. Actually, the whole trip becomes faster if they take the best route which is Kolonel Sugiono Street.
Where to Stay