North Sulawesi Province
---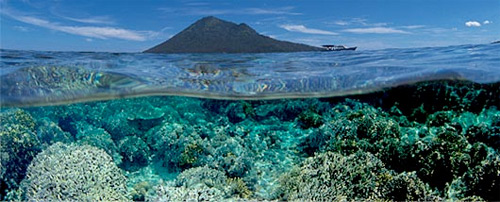 Welcome to North Sulawesi, the exotic province that full of beautiful people and the capital is Manado. The people of North Sulawesi hold predominantly Christian for their religion, with some of Muslim, Hindu and Buddhist. The indigenous people from this province are mostly coming from the Minahasan ethnic.
Manado people are popular with their culture among other area, dominantly from their food, their tourism object, even the women. Manadonese women are very popular with their beauty, white skin, chubby cheek, and mostly become an artist or a model.
One of the inspiring things from Manado is their culinary taste. Their foods are popular with spicy and hot taste. Some of Manadonese restaurant are spreads over the Indonesia area offering kinds of local food like, Tinutuan or Bubur Manado or Manado porridge, this is porridge complete with some vegetables and serve with hot chilly pepper. Nasi Jaha or Jaha Rice, is kind of sticky rice mixed with red onion and ginger, it cooked around bamboo toast and coconut milk. Klappertart or Coconut tart that taste sweet like the Manadonese. Wort to try. Other foods are categorize as extreme food which commonly not all people can enjoy these foods, they are; RW or Rintek Wuuk is made from dog meat, Tikus or rats, paniki or bats meet and kinds of pork meat.
The local interest from Manado or North Sulawesi are coming from Manado itself, Manado offers a variety of terrain with hills, volcanic mountains and scenic plateaus. Other is coming from the famous of Bunaken Sea Garden. Bunaken is recognizing as one of the best place for scuba diving in the world.
The things that make Bunaken become so popular are coming from the mangrove ecosystems, sea grass beds and coral reefs and tropical ecosystems representative of water, land and coastal ecosystems. There are some of varieties of fish that lives on Bunaken, like Napoleon Wrasse, Angelfish, Turtles, Blue Ribbon Eels, Stingrays, eagle rays, Snappers, Groupers, and sharks.
Other tourism object is Manado Tua Island, the visitors can enjoy hiking, snorkeling or even diving. Last but not least is about Bukit Kasih or The Hill of Love. It located on Kanonang village, 55KM from Menado city. The purpose for this object is to be a spiritual center where religion followers of various beliefs can gather, meditate and perform their worships in this fertilized and fogged tropical hill. The location is seems like we hike the hill where we can find all religions lay beneath the hill. We can find church, mosque, pura, and temple as a symbol for religions that stay in Indonesia.

Latest News
Everyone knows marine tourism destinations in North Sulawesi, Bunaken Marine Park will definitely be the main reference. In fact, many marine tourism destinations are scattered in the regencies of North Nusa which are no less beautiful. North Nusa is an area that includes three archipelagic districts at the northern tip of Sulawesi. The three archipelagic regencies are Sitaro , Sangihe and Talaud Islands Regency. Previously, these three regencies were part of the Sangihe Talaud Regency before they were divided. In Sitaro Regency (Siau Tagulandang Biaro) itself, there is a lot…
---
Since it was designated as a crossborder destination, Talaud Islands in North Sulawesi, began to improve its tourism. In addition to starting calendar of events, promotions, physical infrastructure to tourist support, Talaud make Sara Island became the mainstay of tourism icon. The uninhabited small island located in the Pacific Ocean is ready to be promoted for marine tourism. The exotic Sara Island with its fine white sandy beach. Regent of Talaud Islands Regency Sri Wahyuni Manalip said, Sara Island is one of the islands ready for sale for tourism activity.…
---
Lenso Dance Lenso is a folk dance from Minahasan, North Sulawesi and Maluku. The word Lenso means handkerchief, hence it uses that property during the dance. This dance is commonly presented in groups during some occasions or party, like wedding party, harvest time, new year, Christmas and many more. The most interesting from this dance is, the participants who are still single, can search for mate during the party by performing this dance. www.indonesia-tourism.com
---
Lembeh Island Lembeh island is part of Bitung administrative area in North Sulawesi. The island is separated from the mainland of Sulawesi Island by the Lembeh Strait. Lembeh island is famous for those who like to dive, because Lembeh island is the best diving spot after Bunaken. The divers recognized Bunaken as the Sea Garden in the Earth, but Lembeh is such a virgin island. It is untouched and almost to be the perfect diving spot. There are so many unusual habitats and exotic organisms live under Lembeh island, like,…
---