Tumpa Mountain
---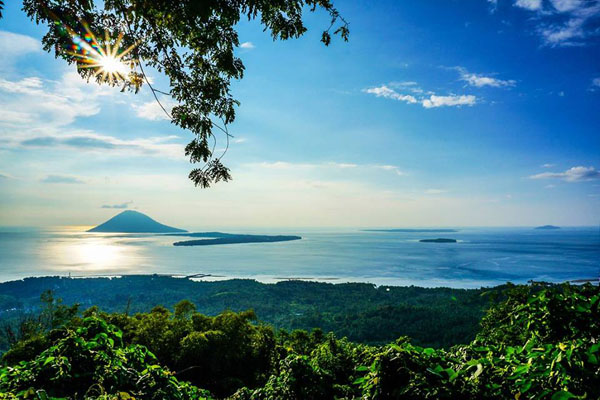 Tumpa Mountains in Manado has a geographic shape that mostly high land. This mountain is a Mountain that possibly the beginning Mountain from other mountains in the province of North Sulawesi, including Mount Lokon which is more famous by its volcanic activity and Tondano Mountain that has legendary Tondano Lake, while Tumpa Mountain is located in the north side of Manado city.
Tumpa Mountain is located in the Village Tongkaina. It can be reached less than 1 hour by land and it has 750 meters high above sea level. The size of the mountain is quite small, and it suitable for tourists who are not living as nature lovers, but wanted to try to conquer the mountain without having to spend a lot of energy. This mountain is a protected forest with the scenic lush green and shady that covered by a set of palm tree plantation from local people.
Mount Tumpa is already well known in Manado because of the landscape. Moreover, we can see the beauty of the lights from the peak of this Mountain, and adorn the city of Manado from high.
In the same area with Mount Tumpa, there is Bukit Doa or prayer hill. Bukit Doa is like a religious site for contemplating, though it is not as grand and wide as Bukit Doan in Tomohon, but this hill will be enough to be a place of self-reflection while calming down from the busy city of Manado, even it is quieter here. On the hill of prayer is also quite often used as retreats, an event that is usually performed 2-3 days to get closer to The Almight while refreshing the body and soul.

Latest News
Everyone knows marine tourism destinations in North Sulawesi, Bunaken Marine Park will definitely be the main reference. In fact, many marine tourism destinations are scattered in the regencies of North Nusa which are no less beautiful. North Nusa is an area that includes three archipelagic districts at the northern tip of Sulawesi. The three archipelagic regencies are Sitaro , Sangihe and Talaud Islands Regency. Previously, these three regencies were part of the Sangihe Talaud Regency before they were divided. In Sitaro Regency (Siau Tagulandang Biaro) itself, there is a lot…
---
Since it was designated as a crossborder destination, Talaud Islands in North Sulawesi, began to improve its tourism. In addition to starting calendar of events, promotions, physical infrastructure to tourist support, Talaud make Sara Island became the mainstay of tourism icon. The uninhabited small island located in the Pacific Ocean is ready to be promoted for marine tourism. The exotic Sara Island with its fine white sandy beach. Regent of Talaud Islands Regency Sri Wahyuni Manalip said, Sara Island is one of the islands ready for sale for tourism activity.…
---
Lenso Dance Lenso is a folk dance from Minahasan, North Sulawesi and Maluku. The word Lenso means handkerchief, hence it uses that property during the dance. This dance is commonly presented in groups during some occasions or party, like wedding party, harvest time, new year, Christmas and many more. The most interesting from this dance is, the participants who are still single, can search for mate during the party by performing this dance. www.indonesia-tourism.com
---
Lembeh Island Lembeh island is part of Bitung administrative area in North Sulawesi. The island is separated from the mainland of Sulawesi Island by the Lembeh Strait. Lembeh island is famous for those who like to dive, because Lembeh island is the best diving spot after Bunaken. The divers recognized Bunaken as the Sea Garden in the Earth, but Lembeh is such a virgin island. It is untouched and almost to be the perfect diving spot. There are so many unusual habitats and exotic organisms live under Lembeh island, like,…
---