Woloan Village
---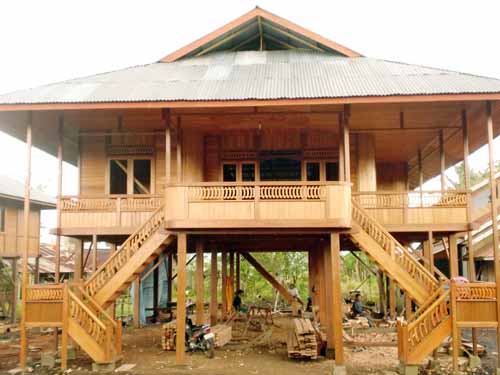 Woloan Village is settled in some 3 Km from west the town of Tomohon, or about 28 Km from Manado. This village has become famous for its industry in traditional knock-down houses that can be transported and re-assembled anywhere in the world. These are not dolls houses or souvenirs, these are actual houses to live in. Spectacular!
The craftmen from Woloan Village receive many orders that arrived from as far away as Argentina, Norway, Poland, Japan, South Korea, the Philippines and the United States, and of course domestically from Jakarta and Bali. The village is a favorite stop on any tour to Tomohon, and a number of orders for the knock-down houses have actually come from tourists.
Woloan is located in the district of Minahasa, is a pretty village surrounded by Mt. Mahawu, Mt. Masarang and the very active Lokon volcano. The weather is cool and can become pretty cold at night. Along the main street of Woloan is a display of various houses that visitors can enter and admire and even order directly from whome in charge.
The Knock-Down Houses
The houses are built by skilled local carpenters using traditional methods and hard wood, so that the houses are sturdy and well built, but can still be easily knocked down for reinstalment elsewhere.
The kind of houses are a wonderful asset to have in a large garden offering that rural feeling. They have been used as chalets, gazebos or bungalows in beach resorts. This traditional Minahasa house is built on pillars and stands 3 meters above the ground. There are typically a pair of stairs in front and at the back of the house, one on the left and the other on the right leading to the main door. Interested buyers can either take the one chosen from those displayed, but houses can be customized according to the buyer's wishes.
For a typical 112-type house there will be a terrace, a living room and three bedrooms, each 3.5 by 4 meters. There is no kitchen nor bathroom but these can be added and made to order. The house has 19 glass windows and 6 doors. The construction of a house is normally takes 2 months for 8 men to complete. The supporting beams are said to be made of iron wood, the walls are from cempaka wood and the ceiling is nantu wood. While the roof is supported by iron shafts. All woods are imported from neighbouring Gorontalo and Central Sulawesi regions.
Unlike other parts of Indonesia, the Minahasans donot believe in putting tiles on the roof, based on the belief that since tiles are made of soil and soil reminds one of death, therefore they do not belong on the roof. The roofs are therefore normally made of corrugated iron or natural fiber.
How to get there :
As Woloan is located not too far from Manado, the village is on the itinerary of any Minahasa country tour. You can also hire your own car or if you are more adventurous, hire a motorbike.

Latest News
Everyone knows marine tourism destinations in North Sulawesi, Bunaken Marine Park will definitely be the main reference. In fact, many marine tourism destinations are scattered in the regencies of North Nusa which are no less beautiful. North Nusa is an area that includes three archipelagic districts at the northern tip of Sulawesi. The three archipelagic regencies are Sitaro , Sangihe and Talaud Islands Regency. Previously, these three regencies were part of the Sangihe Talaud Regency before they were divided. In Sitaro Regency (Siau Tagulandang Biaro) itself, there is a lot…
---
Since it was designated as a crossborder destination, Talaud Islands in North Sulawesi, began to improve its tourism. In addition to starting calendar of events, promotions, physical infrastructure to tourist support, Talaud make Sara Island became the mainstay of tourism icon. The uninhabited small island located in the Pacific Ocean is ready to be promoted for marine tourism. The exotic Sara Island with its fine white sandy beach. Regent of Talaud Islands Regency Sri Wahyuni Manalip said, Sara Island is one of the islands ready for sale for tourism activity.…
---
Lenso Dance Lenso is a folk dance from Minahasan, North Sulawesi and Maluku. The word Lenso means handkerchief, hence it uses that property during the dance. This dance is commonly presented in groups during some occasions or party, like wedding party, harvest time, new year, Christmas and many more. The most interesting from this dance is, the participants who are still single, can search for mate during the party by performing this dance. www.indonesia-tourism.com
---
Lembeh Island Lembeh island is part of Bitung administrative area in North Sulawesi. The island is separated from the mainland of Sulawesi Island by the Lembeh Strait. Lembeh island is famous for those who like to dive, because Lembeh island is the best diving spot after Bunaken. The divers recognized Bunaken as the Sea Garden in the Earth, but Lembeh is such a virgin island. It is untouched and almost to be the perfect diving spot. There are so many unusual habitats and exotic organisms live under Lembeh island, like,…
---