Tunan Waterfall
---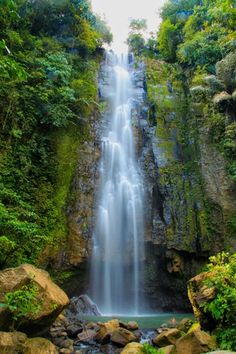 North Sulawesi is rich in tourist attractions that are worth to be visited. In addition to famous Bunaken, there are other tourist attractions that will be interesting to be explored. One of them are Tunan Waterfall; this waterfall is located in the village of Talawan, District Dimembe, North Minahasa regency.
This waterfall has a height that reached 85 meters and it has a fairly swift current spill. Although it is still not popular, due to the lack of promotion of the local government but the beauty of Tunan waterfall is surprisingly stunning. When the holiday season arrives, Tunan waterfall will filled with tourists.
The nuance around the waterfall is still genuine, as long as the eyes can see the green trees that look so cool in the eyes. The view becomes more dramatic with the nuance of the gurgling sound from the waterfall that soothing the mind.
At this waterfall you can do swimming in the pool water at the bottom of the waterfall while enjoying the fresh splash of the waterfall stream. The pool has a depth of about 1.5 meters and around the pool there are lots of slippery rocks. So, you have to be more carefull when playing inside the water especially if you are bringing children to the trip.
There are some things you should provide when visiting Tunan waterfall; do not forget to bring a change of clothes, prepare for amount of cash because at this waterfall there are no ATM machine available. In case of food, you do not need to worry because in the vicinity there are many food and beverage vendors that use tents for their selling.
To go to this location is can be done from Manado City or Sam Ratulangi Airport. We can use personal vehicle, a rental car or public transportation to get to the location. But for the public transport is quite difficult to find. So it is better to use private car or rented one.
The cost of renting a car is around Rp 250,000, - per day. But if you want to use public transportation we can take a bus from Terminal Karombas heading to Dimembe. From Dimembe we can continued by using motorcycles.

Latest News
Everyone knows marine tourism destinations in North Sulawesi, Bunaken Marine Park will definitely be the main reference. In fact, many marine tourism destinations are scattered in the regencies of North Nusa which are no less beautiful. North Nusa is an area that includes three archipelagic districts at the northern tip of Sulawesi. The three archipelagic regencies are Sitaro , Sangihe and Talaud Islands Regency. Previously, these three regencies were part of the Sangihe Talaud Regency before they were divided. In Sitaro Regency (Siau Tagulandang Biaro) itself, there is a lot…
---
Since it was designated as a crossborder destination, Talaud Islands in North Sulawesi, began to improve its tourism. In addition to starting calendar of events, promotions, physical infrastructure to tourist support, Talaud make Sara Island became the mainstay of tourism icon. The uninhabited small island located in the Pacific Ocean is ready to be promoted for marine tourism. The exotic Sara Island with its fine white sandy beach. Regent of Talaud Islands Regency Sri Wahyuni Manalip said, Sara Island is one of the islands ready for sale for tourism activity.…
---
Lenso Dance Lenso is a folk dance from Minahasan, North Sulawesi and Maluku. The word Lenso means handkerchief, hence it uses that property during the dance. This dance is commonly presented in groups during some occasions or party, like wedding party, harvest time, new year, Christmas and many more. The most interesting from this dance is, the participants who are still single, can search for mate during the party by performing this dance. www.indonesia-tourism.com
---
Lembeh Island Lembeh island is part of Bitung administrative area in North Sulawesi. The island is separated from the mainland of Sulawesi Island by the Lembeh Strait. Lembeh island is famous for those who like to dive, because Lembeh island is the best diving spot after Bunaken. The divers recognized Bunaken as the Sea Garden in the Earth, but Lembeh is such a virgin island. It is untouched and almost to be the perfect diving spot. There are so many unusual habitats and exotic organisms live under Lembeh island, like,…
---