Mahawu Mountain
---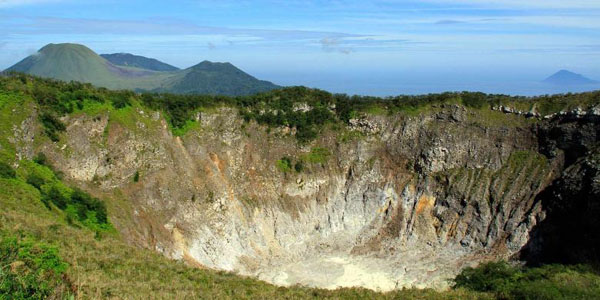 Mahawu Mountain is a volcano that settled near to other famous mountains, which is Lokon and Empung. Mahawu is a volcano stratovolcano that located in the east of Lokon – Empung Mountain that has a width of 180 m and 140 m deep crater with two pyroclastic cones on the northern slope.
There was an explosion that occurred in 1994 with the fumaroles and mud geyser activity that occurs along the crater that full with greenish color. Along the trip to this Mountain, we can enjoying the sun that rises in early morning that will feel quiet and shrouded in thick fog and feel so cold, tends to be so freeze.
To reach this location, we can start from Tomohon to Rurukan, and then walk along the path which passing through vegetable garden and it finally reach the summit for about 1324 above sea level. After going through a beautiful forest and shady cone in crater area, there will be overgrown grass with an altitude of 1200 meter above sea level.
Mahawu is a relatively gentle mountain to climb for beginners, especially the accessible is easy and the road is already that purposely built for easy access to the summit. In the foot of Mahawu the residents work as farmers and plant a variety of vegetables at the foot to the middle of the mountain. Because the mountain is not too big and easy in ascent, if the tourists want to climb, then it can be reached within an hour. Unlike the other volcanoes that tend to be sandy at its peak, this Mahawu peak is green and there are a lot of plantations that grow finely.

Latest News
Everyone knows marine tourism destinations in North Sulawesi, Bunaken Marine Park will definitely be the main reference. In fact, many marine tourism destinations are scattered in the regencies of North Nusa which are no less beautiful. North Nusa is an area that includes three archipelagic districts at the northern tip of Sulawesi. The three archipelagic regencies are Sitaro , Sangihe and Talaud Islands Regency. Previously, these three regencies were part of the Sangihe Talaud Regency before they were divided. In Sitaro Regency (Siau Tagulandang Biaro) itself, there is a lot…
---
Since it was designated as a crossborder destination, Talaud Islands in North Sulawesi, began to improve its tourism. In addition to starting calendar of events, promotions, physical infrastructure to tourist support, Talaud make Sara Island became the mainstay of tourism icon. The uninhabited small island located in the Pacific Ocean is ready to be promoted for marine tourism. The exotic Sara Island with its fine white sandy beach. Regent of Talaud Islands Regency Sri Wahyuni Manalip said, Sara Island is one of the islands ready for sale for tourism activity.…
---
Lenso Dance Lenso is a folk dance from Minahasan, North Sulawesi and Maluku. The word Lenso means handkerchief, hence it uses that property during the dance. This dance is commonly presented in groups during some occasions or party, like wedding party, harvest time, new year, Christmas and many more. The most interesting from this dance is, the participants who are still single, can search for mate during the party by performing this dance. www.indonesia-tourism.com
---
Lembeh Island Lembeh island is part of Bitung administrative area in North Sulawesi. The island is separated from the mainland of Sulawesi Island by the Lembeh Strait. Lembeh island is famous for those who like to dive, because Lembeh island is the best diving spot after Bunaken. The divers recognized Bunaken as the Sea Garden in the Earth, but Lembeh is such a virgin island. It is untouched and almost to be the perfect diving spot. There are so many unusual habitats and exotic organisms live under Lembeh island, like,…
---