Tangkoko National Park
---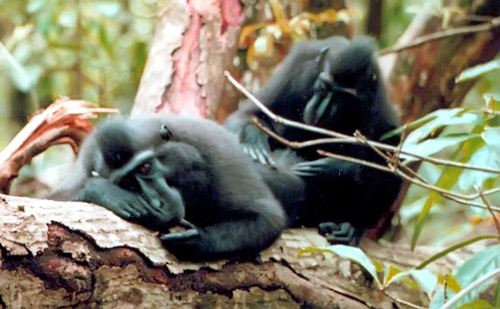 Located at the foot of Dua Saudara Mountain, the Tangkoko Nature Reserve is comprised of rolling hills and valleys with a variety of hardwood trees and unusual plant life. The animal life is also quite varied, and one can often view Tarsius tarsier (one of the smallest known primates), black tailless monkeys, maleo birds, wild pigs and kuskus (marsupials). Tangkoko Batuangus Reserve offers a suitable protective environment to help prevent these animals from becoming extinct.
The Tangkoko Nature Reserve is a flora and fauna conservation area on Mount Tangkoko in the district of Bitung in the province of North Sulawesi, about one hour's drive from Manado. The reserve is particularly attractive for its unique wildlife that can be observed roaming free in the forest.
Located about an hour's drive from Manado, you will first pass the Batuputih Nature Park that lies between Batuputih Bawah sub district and the Tangkoko Nature Reserve at Batuangus. Covering an area of 615 hectares, the Batuputih Nature Park is a savanna suitable for camping, outbound activities and relaxing by the beach. Since Batuputih is mostly visited by tourists, it is therefore also the most well-known, although it is only one of four conservation areas at Tangkoko.
In addition to the Batuputih Park, theTangkoko Reserve covers a total area of 3,196 hectares , where the Batuangus Nature Reserve has 635 hectares (located between the Tangkoko Nature Reserve and Pinangunian village), while the Duasaudara Nature Reserve covers 4,299 hectares (which includes Mount Duasaudara and its surrounding areas).
There are some tips that better notice when visiting Tangkoko National Park. This will be avoid us from wild animals that can be appear or even get disturbed during our visit:
Dress appropriately. Wear light, breathable clothing that dries quickly. Drab colours are preferable; avoid whites and reds. Although it is hot, long sleeves and pants prevent scratches and insect bites. Use insect repellent and tuck your pants into your socks to minimize insect, leech and mite bites.
Carry good binoculars; without them even the most spectacular birds will be no more than a shiny dot in the canopy. Carry a waterproof bag big enough for binoculars and cameras in case of a downpour.
Go slowly, quietly and in small groups (no more than 5) so animals will be less likely to be disturbed by your presence.
Seek out fruiting trees, especially figs, or pools and streams. These are profitable places to sit and wait for wildlife, particularly birds.
Sit often and for long periods and search for the things that tend to go unnoticed like glossy beetles, graceful butterflies, velvety ants, and exquisite but minute flowers.
Be aware of sounds - the buzzing of insects, calls of birds, rustling in the underbrush. Quite often these cues are the first indication that something is about to happen.
Go early. Most birds and many mammals are active in the morning with their movements dropping off by midday. The afternoon peak is never as energetic as the morning but these are good times to visit streams and water sources.
When viewing monkeys, let them approach you on their own terms. If you stoop down and avoid looking directly in their eyes they will be less inhibited. Do not chase or pursue monkeys and never feed them. No matter how innocent they may look, wild monkeys bite and carry dangerous diseases.
When viewing tarsiers at night don't forget your flashlight. However be considerate of their extremely sensitive eyes.
This conservation area for endangered species in Bitung is located some 70 kilometers from Manado. Tourists prefer to visit Batuputih, making it the favourite tourist destination of Tangkoko. It takes about an hour's drive from Manado to Bitung and a further 45 minutes from Bitung to Batuputih travelling by winding asphalt roads.

Latest News
Everyone knows marine tourism destinations in North Sulawesi, Bunaken Marine Park will definitely be the main reference. In fact, many marine tourism destinations are scattered in the regencies of North Nusa which are no less beautiful. North Nusa is an area that includes three archipelagic districts at the northern tip of Sulawesi. The three archipelagic regencies are Sitaro , Sangihe and Talaud Islands Regency. Previously, these three regencies were part of the Sangihe Talaud Regency before they were divided. In Sitaro Regency (Siau Tagulandang Biaro) itself, there is a lot…
---
Since it was designated as a crossborder destination, Talaud Islands in North Sulawesi, began to improve its tourism. In addition to starting calendar of events, promotions, physical infrastructure to tourist support, Talaud make Sara Island became the mainstay of tourism icon. The uninhabited small island located in the Pacific Ocean is ready to be promoted for marine tourism. The exotic Sara Island with its fine white sandy beach. Regent of Talaud Islands Regency Sri Wahyuni Manalip said, Sara Island is one of the islands ready for sale for tourism activity.…
---
Lenso Dance Lenso is a folk dance from Minahasan, North Sulawesi and Maluku. The word Lenso means handkerchief, hence it uses that property during the dance. This dance is commonly presented in groups during some occasions or party, like wedding party, harvest time, new year, Christmas and many more. The most interesting from this dance is, the participants who are still single, can search for mate during the party by performing this dance. www.indonesia-tourism.com
---
Lembeh Island Lembeh island is part of Bitung administrative area in North Sulawesi. The island is separated from the mainland of Sulawesi Island by the Lembeh Strait. Lembeh island is famous for those who like to dive, because Lembeh island is the best diving spot after Bunaken. The divers recognized Bunaken as the Sea Garden in the Earth, but Lembeh is such a virgin island. It is untouched and almost to be the perfect diving spot. There are so many unusual habitats and exotic organisms live under Lembeh island, like,…
---