Tandurusa Zoological Garden
---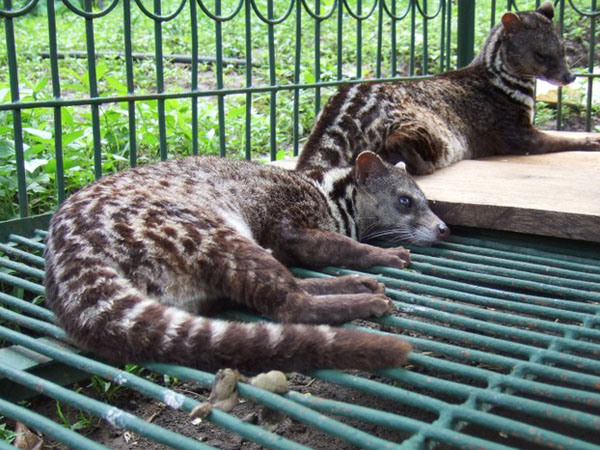 North Sulawesi is like the home of exotic flora and fauna. Seeing strange animals like the cute little tarsiers, the maleo birds, macaques and others is very possible here. If you have not enough time or the patience to hike into the forests, then your answer must surely be a visit to the Tandurusa Zoological Gardens in the city of Bitung, the harbor city in Manado.
The Tandurusa Park is located in the Tandurusa area in the subdistrict of Aertembaga in Bitung. It was originally built by Boy Gumolung, and was at first aimed for commercial purposes, but the park was later taken over by the local government. The Park is often visited by domestic and international visitors; ocals also love to come here with their entire family and continue enjoying water sport and recreation on the nearby beach along the Lembeh Strait.
This zoological park is quite small but it content of rare collection of Sulawesi's fauna like black macaques, babirusa wild boars, tarsiers, toucan hornbills, cuscus bears, black cuckatoos, sea eagles, some species of snakes and a giant python snake. When walking in this Park through cool forests you will be greeted by the chirping of birds, and the screech of monkeys in the green foliage.
Just like ordinary zoo, the animals here are in cages so that it is possible to see the night animals of tarsiers. The Tarsius monkey has become the icon of the province of North Sulawesi; It is tiny that you can easily hold it in the palm of your hand. They grow to between 10 to 15 cm and weighing only 80 grams for their body mass. What sets them apart are their large saucer eyes that are unusually large for their small size. Their long arms and fingers allow them to jump great distances from one tree to the other. Tarsiers are faithful animals, taking only one mate throughout their lifetime. And even when the mate dies the remaining tarsius will continue to live alone.
To reach this place is can be reach from Manado, capital of the province of North Sulawesi to Bitung that takes approximately 2 hours by car. There are public buses from Manado-Bitung route with fares costing Rp7,500. Upon arrival at the Tangkoko Terminal at Bitung, take bus C1 or C2 into the center of town, this costs Rp. 3,000. From here you can continue by bus route H, or take a motorbike taxi – ojek - to the Tandurusa Zooligical Park, The fare is around Rp10,000 to Rp.15,000.

Latest News
Everyone knows marine tourism destinations in North Sulawesi, Bunaken Marine Park will definitely be the main reference. In fact, many marine tourism destinations are scattered in the regencies of North Nusa which are no less beautiful. North Nusa is an area that includes three archipelagic districts at the northern tip of Sulawesi. The three archipelagic regencies are Sitaro , Sangihe and Talaud Islands Regency. Previously, these three regencies were part of the Sangihe Talaud Regency before they were divided. In Sitaro Regency (Siau Tagulandang Biaro) itself, there is a lot…
---
Since it was designated as a crossborder destination, Talaud Islands in North Sulawesi, began to improve its tourism. In addition to starting calendar of events, promotions, physical infrastructure to tourist support, Talaud make Sara Island became the mainstay of tourism icon. The uninhabited small island located in the Pacific Ocean is ready to be promoted for marine tourism. The exotic Sara Island with its fine white sandy beach. Regent of Talaud Islands Regency Sri Wahyuni Manalip said, Sara Island is one of the islands ready for sale for tourism activity.…
---
Lenso Dance Lenso is a folk dance from Minahasan, North Sulawesi and Maluku. The word Lenso means handkerchief, hence it uses that property during the dance. This dance is commonly presented in groups during some occasions or party, like wedding party, harvest time, new year, Christmas and many more. The most interesting from this dance is, the participants who are still single, can search for mate during the party by performing this dance. www.indonesia-tourism.com
---
Lembeh Island Lembeh island is part of Bitung administrative area in North Sulawesi. The island is separated from the mainland of Sulawesi Island by the Lembeh Strait. Lembeh island is famous for those who like to dive, because Lembeh island is the best diving spot after Bunaken. The divers recognized Bunaken as the Sea Garden in the Earth, but Lembeh is such a virgin island. It is untouched and almost to be the perfect diving spot. There are so many unusual habitats and exotic organisms live under Lembeh island, like,…
---