Watu Pinawetengan
---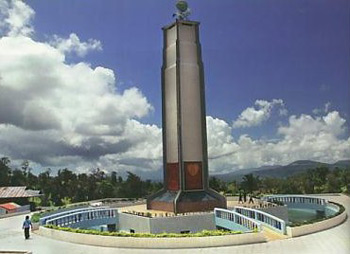 Watu Pinawetengan, which means stone Distribution Points, is located in the village Pinabetengan, Tompaso Subdistrict, Minahasa Regency, North Sulawesi.
In this place, around 1000 BC there were dividends of nine Minahasan sub-ethnics including Tontembuan, Tombulu, Tonsea, Tolowur, Tonsawang, Pasan, Ponosakan, Bantik and Siao. In addition to dividing the territory, the elders of the tribes also make this place to negotiate about all the problems that encountered.
The scratches in the rock are forming variety of motifs and believed to be the result of negotiations tribes. The motive is in the form of a human image, the images such as the genitals of men and women, a leaf motif and irregular collection of lines without clear meaning.
Watu Pinawetengan is an interesting megalithic stone because of its unique form and scripts. It is located some 60 kilometers from Manado. Please bring along enough food if you like to stay longer to enjoy fresh mountain air while listening to explanations given by the keeper. It is best to ask people around because directions to this site are not very clear. This tourism object has no restaurant selling food or drink. Therefore, it is best for you to bring along your own food and buy food from Kawangkoan such as crispy Kawangkoan peanuts and other culinaries such as "ragey", which is fried pork or "paniki", which is fried bat with chilli.
This megalithic stone is located in Pinabetengan village, Minahasa district, which is accessible by private cars and public transportations. You can take a bus from Karombasan bus station. If you use a rented car, you can take Tomohon way toward the south i.e., to Kawangkoan.
From Kawangkoan, you can take a motor taxi to take you to the location, which is located about 2 kilometers away. This tourist object has a narrow access with sharp turnings. Therefore, you should be careful when driving your car.

Latest News
Everyone knows marine tourism destinations in North Sulawesi, Bunaken Marine Park will definitely be the main reference. In fact, many marine tourism destinations are scattered in the regencies of North Nusa which are no less beautiful. North Nusa is an area that includes three archipelagic districts at the northern tip of Sulawesi. The three archipelagic regencies are Sitaro , Sangihe and Talaud Islands Regency. Previously, these three regencies were part of the Sangihe Talaud Regency before they were divided. In Sitaro Regency (Siau Tagulandang Biaro) itself, there is a lot…
---
Since it was designated as a crossborder destination, Talaud Islands in North Sulawesi, began to improve its tourism. In addition to starting calendar of events, promotions, physical infrastructure to tourist support, Talaud make Sara Island became the mainstay of tourism icon. The uninhabited small island located in the Pacific Ocean is ready to be promoted for marine tourism. The exotic Sara Island with its fine white sandy beach. Regent of Talaud Islands Regency Sri Wahyuni Manalip said, Sara Island is one of the islands ready for sale for tourism activity.…
---
Lenso Dance Lenso is a folk dance from Minahasan, North Sulawesi and Maluku. The word Lenso means handkerchief, hence it uses that property during the dance. This dance is commonly presented in groups during some occasions or party, like wedding party, harvest time, new year, Christmas and many more. The most interesting from this dance is, the participants who are still single, can search for mate during the party by performing this dance. www.indonesia-tourism.com
---
Lembeh Island Lembeh island is part of Bitung administrative area in North Sulawesi. The island is separated from the mainland of Sulawesi Island by the Lembeh Strait. Lembeh island is famous for those who like to dive, because Lembeh island is the best diving spot after Bunaken. The divers recognized Bunaken as the Sea Garden in the Earth, but Lembeh is such a virgin island. It is untouched and almost to be the perfect diving spot. There are so many unusual habitats and exotic organisms live under Lembeh island, like,…
---