Sangihe Archipelago
---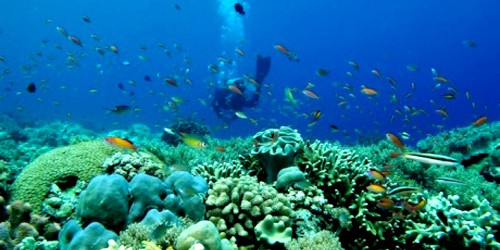 Sangihe is a regency archipelago in North Sulawesi Province. This district comes from the splitting of the Sangihe and Talaud district in 2000. The capital is Tahuna. Sangihe regency lies between the island of Sulawesi to Mindanao Island (Philippines), and located on the edge of the Pacific Ocean. This district includes the three clusters, which is Tatoareng Cluster, Cluster Sangihe, and Cluster Border.
The Sangihe Archipelago is a chain of volcanic islands off the north east peninsula of North Sulawesi. Consisting of about forty volcanic islands some of which are over 1,500 metres high, the archipelago's waters are some of deepest in the world and deep-water currents bring plankton and nutrients from the deep. As a result the marine life at this Manado diving destination is incredibly rich and varied.
There is a perfect ecosystem at a depth of more than 4,000 feet below the sea of Sangihe, it was revealed in the expedition of Satal Index which is collaboration between Indonesian and U.S. researchers. The report said that there some active ocean volcanoes under the sea of Sangihe, those active volcanoes which surround Kawio Islands are the active volcano in the world's highest sea floor.
The volcano is forming an area on the geothermal area. In the very high water temperatures reach 200 degrees Celsius, it turns out that there is variety of marine life. There are many different types of starfish, shrimp, lobster, fish, octopus, coral reefs which rely on the living bacteria in the water, which is estimated that the living bacteria is the same bacteria with 3.5 billion years ago.
Apparently, there are a lot of marine life that have bright colors from green, purple, pink, red, white, albino, yellow. Without any sun shines to go through the process of photosynthesis, the green color coral reefs are still look brightly shine.
At an altitude of 2000 meters from the volcano, there is high chimney that removing the heat from the volcano attaching. The chimney is formed from the hydrothermal meeting with cold water sea, so that it looks like the chimneys protruding from the ground.
Sangihe is famous by its location for diving spot, there are so many attractive destinations that worth to be visit beside the the underwater volcanoes, among of those destination there is Pananualeng beach, kadadima waterfall, nguralawo waterfall, Tahuna sightseeing, Kalama bird nest, sowang kahakitang coral reefs, embuhanga beach, kemboleng island beach.

Latest News
Everyone knows marine tourism destinations in North Sulawesi, Bunaken Marine Park will definitely be the main reference. In fact, many marine tourism destinations are scattered in the regencies of North Nusa which are no less beautiful. North Nusa is an area that includes three archipelagic districts at the northern tip of Sulawesi. The three archipelagic regencies are Sitaro , Sangihe and Talaud Islands Regency. Previously, these three regencies were part of the Sangihe Talaud Regency before they were divided. In Sitaro Regency (Siau Tagulandang Biaro) itself, there is a lot…
---
Since it was designated as a crossborder destination, Talaud Islands in North Sulawesi, began to improve its tourism. In addition to starting calendar of events, promotions, physical infrastructure to tourist support, Talaud make Sara Island became the mainstay of tourism icon. The uninhabited small island located in the Pacific Ocean is ready to be promoted for marine tourism. The exotic Sara Island with its fine white sandy beach. Regent of Talaud Islands Regency Sri Wahyuni Manalip said, Sara Island is one of the islands ready for sale for tourism activity.…
---
Lenso Dance Lenso is a folk dance from Minahasan, North Sulawesi and Maluku. The word Lenso means handkerchief, hence it uses that property during the dance. This dance is commonly presented in groups during some occasions or party, like wedding party, harvest time, new year, Christmas and many more. The most interesting from this dance is, the participants who are still single, can search for mate during the party by performing this dance. www.indonesia-tourism.com
---
Lembeh Island Lembeh island is part of Bitung administrative area in North Sulawesi. The island is separated from the mainland of Sulawesi Island by the Lembeh Strait. Lembeh island is famous for those who like to dive, because Lembeh island is the best diving spot after Bunaken. The divers recognized Bunaken as the Sea Garden in the Earth, but Lembeh is such a virgin island. It is untouched and almost to be the perfect diving spot. There are so many unusual habitats and exotic organisms live under Lembeh island, like,…
---