Ambang Mountain
---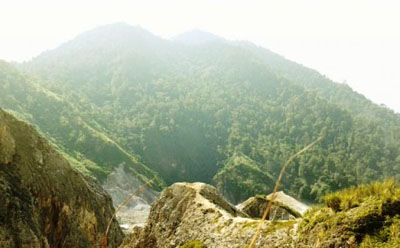 Ambang Mountain is a nature reserve that lies in the north of Sulawesi Island that covering 3.232 hectare.
This is a complex of volcanoes at the western of the northern arm of Sulawesi and there are two lakes, lake Mo'oat and lake Tondok (Danau Mo'oat and danau Tondok), at an elevation of 750 m. The larger of the two lakes is Mo'oat. Both of them are side by side. The volcano contains several craters up to 400 m in diameter and five solfatara fields. The only historical account of its eruption occurred somewhere in the 1850s.
Ambang nature reserve is situated close to the equator in the mountainous area, precisely to the east of Bogani Nani Wartabone National Park. The lower parts are covered by evergreen rainforest with few palms and a canopy of up to 25 m with some emergent trees. There are a number of marshes and small lakes and, particularly near the edge of the park, trees have been felled and there are clearings and the growth of secondary forest.
The reserve is best accessed from the village of Singsingon, which is an hour's drive from Kotamobagu. Visitors need a permit to visit the park and these can be obtained from the National Park Office in Kotamobagu. The village can be reached by a crowded public, then from the centre of Kotamobagu or alternatively one can charter a bus direct to the village for a more comfortable ride.
In addition to the fauna that live in this Mountain, there are a number of mammals in the reserve although these face hunting pressure, with traps being set, mostly for small mammals. The Celebes crested macaque is found in the reserve and the spectral tarsier is also present but both of these are very wary of humans. Rare mammals include the anoa, the Celebes warty pig, the Sulawesi bear cuscusand the Sulawesi dwarf cuscus, and there are plenty of forest rats which emerge into the open at night.

Latest News
Everyone knows marine tourism destinations in North Sulawesi, Bunaken Marine Park will definitely be the main reference. In fact, many marine tourism destinations are scattered in the regencies of North Nusa which are no less beautiful. North Nusa is an area that includes three archipelagic districts at the northern tip of Sulawesi. The three archipelagic regencies are Sitaro , Sangihe and Talaud Islands Regency. Previously, these three regencies were part of the Sangihe Talaud Regency before they were divided. In Sitaro Regency (Siau Tagulandang Biaro) itself, there is a lot…
---
Since it was designated as a crossborder destination, Talaud Islands in North Sulawesi, began to improve its tourism. In addition to starting calendar of events, promotions, physical infrastructure to tourist support, Talaud make Sara Island became the mainstay of tourism icon. The uninhabited small island located in the Pacific Ocean is ready to be promoted for marine tourism. The exotic Sara Island with its fine white sandy beach. Regent of Talaud Islands Regency Sri Wahyuni Manalip said, Sara Island is one of the islands ready for sale for tourism activity.…
---
Lenso Dance Lenso is a folk dance from Minahasan, North Sulawesi and Maluku. The word Lenso means handkerchief, hence it uses that property during the dance. This dance is commonly presented in groups during some occasions or party, like wedding party, harvest time, new year, Christmas and many more. The most interesting from this dance is, the participants who are still single, can search for mate during the party by performing this dance. www.indonesia-tourism.com
---
Lembeh Island Lembeh island is part of Bitung administrative area in North Sulawesi. The island is separated from the mainland of Sulawesi Island by the Lembeh Strait. Lembeh island is famous for those who like to dive, because Lembeh island is the best diving spot after Bunaken. The divers recognized Bunaken as the Sea Garden in the Earth, but Lembeh is such a virgin island. It is untouched and almost to be the perfect diving spot. There are so many unusual habitats and exotic organisms live under Lembeh island, like,…
---