Lembeh Strait
---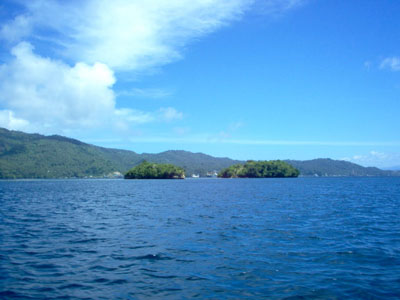 The Lembeh Strait is administratively located in Bitung, North Sulawesi and becomes world famous for its wonderful, photogenic underwater critters. In fact the Strait is only a long and narrow strip that separates the mainland from the Lembeh Island. But look closer and dive into its blue waters and discover a completely different world that filled with fascinating and most colorful tropical underwater life that is loved for its wide range of small critters.
the Lembeh Strait stretches 16 km long and is only 1.2 kilometers wide, yet in these narrow waters no less than 88 diving spots have been discovered. Although, Lembeh Strait is not as world popular as the Bunaken National Park, but the charm is has the same astonishing as Bunaken.
Diving here and go to a depth between 15 to 25 meters. There are hardly any currents, and throughout the year the waters still remain in a warm 24 to 30 degrees Centigrades. Its visibility is not too clear reaching between 4 meters to 20 meters only when one happens to be lucky, since its floor is sandy,and there are few corals.
This area is habitat to giant fish that are found almost nowhere else on earth. But among professional divers, the Lembeh Strait is better known as the" Best muck-diving site in the world". Its unique eco-system has made this the home of nudibranch, flamboyant squid, and mimic octopus to furry frog fish. Their exceptional beauty has made these creatures become rare subjects for underwater photographers. For this reason, the marine photographers from the Lembeh Strait are also known as"the Mecca of Macro Photography". Aside from this natural wonder, from its surface the Lembeh Strait remains used as a harbor for local transport, fishery, marine industry, tourism and as a natural laboratory.
How to get there :
From Manado, there are public buses available to Bitung. The fare is Rp. 7,500 for non airconditioned buses and Rp. 8,500 for airconditioned buses. You can also rent a car in Manado, charging for the trip to Bitung around Rp.300,000 one way.
Upon arrival at Bitung, continue to Ruko Pateten pier in the subdistrict of Lembeh to cross by boat to Lembeh Island, which will take around 15 minutes. The fare is around Rp.7,500 per passenger.The crossing is relatively safe with few currents since the Strait is protected by Lembeh Island. En route you will see many different kinds of vessels with various sizes, from dugout canoes, traditional sailboats to large navy frigates and other warships.

Latest News
Everyone knows marine tourism destinations in North Sulawesi, Bunaken Marine Park will definitely be the main reference. In fact, many marine tourism destinations are scattered in the regencies of North Nusa which are no less beautiful. North Nusa is an area that includes three archipelagic districts at the northern tip of Sulawesi. The three archipelagic regencies are Sitaro , Sangihe and Talaud Islands Regency. Previously, these three regencies were part of the Sangihe Talaud Regency before they were divided. In Sitaro Regency (Siau Tagulandang Biaro) itself, there is a lot…
---
Since it was designated as a crossborder destination, Talaud Islands in North Sulawesi, began to improve its tourism. In addition to starting calendar of events, promotions, physical infrastructure to tourist support, Talaud make Sara Island became the mainstay of tourism icon. The uninhabited small island located in the Pacific Ocean is ready to be promoted for marine tourism. The exotic Sara Island with its fine white sandy beach. Regent of Talaud Islands Regency Sri Wahyuni Manalip said, Sara Island is one of the islands ready for sale for tourism activity.…
---
Lenso Dance Lenso is a folk dance from Minahasan, North Sulawesi and Maluku. The word Lenso means handkerchief, hence it uses that property during the dance. This dance is commonly presented in groups during some occasions or party, like wedding party, harvest time, new year, Christmas and many more. The most interesting from this dance is, the participants who are still single, can search for mate during the party by performing this dance. www.indonesia-tourism.com
---
Lembeh Island Lembeh island is part of Bitung administrative area in North Sulawesi. The island is separated from the mainland of Sulawesi Island by the Lembeh Strait. Lembeh island is famous for those who like to dive, because Lembeh island is the best diving spot after Bunaken. The divers recognized Bunaken as the Sea Garden in the Earth, but Lembeh is such a virgin island. It is untouched and almost to be the perfect diving spot. There are so many unusual habitats and exotic organisms live under Lembeh island, like,…
---