Nudi Retreat
---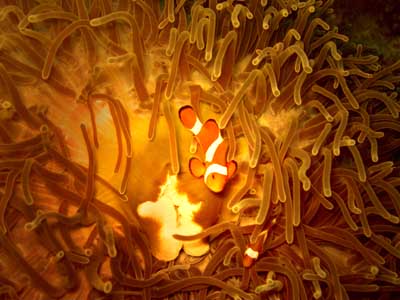 Nudi retreas is the most heavily-dived site in the strait, this is a lovely Coral amphitheater in the shallows. It turns into a sand slope with encrusted boulders down below and two walls stretching out to either side sporting healthy soft Coral growth right up to only 2 metres in depth.
The prime attraction here are Pygmy Seahorses, cockatoo Waspfishes and Pegasus Seamoths along with the attractive underwater scenery and general variety. Coral Cat Sharks are often seen here on night dives.
This is yet another great site featuring a gentle reef slope that starts from a sheltered cove on the Sulawesi coast and descends gradually to a depth of 28 metres. Offering more coral than many of the dive locations you will find on the Lembeh Island side of the strait, healthy soft coral and anemones abound, playing host to probably the world's most popular fish, the anemone fish.
Nudi Falls is one of the best places in the Lembeh Strait for nudi hunters and you can expect many varieties in this one small area alone, whether on the black sandy floor, or feeding on ascidians or hydroids on the wall. However, there are more macro wonders here too including ribbon eels, pygmy seahorses, frogfish and mantis shrimps. It is one of those dive sites that will have you reaching for the I.D. books as soon as you are dry.
Nudi Falls is also one of the most popular and most legendary Night Dive Spots in Lembeh Strait, where there are thousands of weird crustaceans, Nudies and Bobtail Squids offer a spectacular dive that every diver visiting Lembeh should experience at least once during his stay. Due to its very exposed position Nudi Falls can have relatively strong currents at times. Then it it easier to dive relatively close to the wall and avoid the sandy slope and the soft coral fields.

Latest News
Everyone knows marine tourism destinations in North Sulawesi, Bunaken Marine Park will definitely be the main reference. In fact, many marine tourism destinations are scattered in the regencies of North Nusa which are no less beautiful. North Nusa is an area that includes three archipelagic districts at the northern tip of Sulawesi. The three archipelagic regencies are Sitaro , Sangihe and Talaud Islands Regency. Previously, these three regencies were part of the Sangihe Talaud Regency before they were divided. In Sitaro Regency (Siau Tagulandang Biaro) itself, there is a lot…
---
Since it was designated as a crossborder destination, Talaud Islands in North Sulawesi, began to improve its tourism. In addition to starting calendar of events, promotions, physical infrastructure to tourist support, Talaud make Sara Island became the mainstay of tourism icon. The uninhabited small island located in the Pacific Ocean is ready to be promoted for marine tourism. The exotic Sara Island with its fine white sandy beach. Regent of Talaud Islands Regency Sri Wahyuni Manalip said, Sara Island is one of the islands ready for sale for tourism activity.…
---
Lenso Dance Lenso is a folk dance from Minahasan, North Sulawesi and Maluku. The word Lenso means handkerchief, hence it uses that property during the dance. This dance is commonly presented in groups during some occasions or party, like wedding party, harvest time, new year, Christmas and many more. The most interesting from this dance is, the participants who are still single, can search for mate during the party by performing this dance. www.indonesia-tourism.com
---
Lembeh Island Lembeh island is part of Bitung administrative area in North Sulawesi. The island is separated from the mainland of Sulawesi Island by the Lembeh Strait. Lembeh island is famous for those who like to dive, because Lembeh island is the best diving spot after Bunaken. The divers recognized Bunaken as the Sea Garden in the Earth, but Lembeh is such a virgin island. It is untouched and almost to be the perfect diving spot. There are so many unusual habitats and exotic organisms live under Lembeh island, like,…
---