Bentanan Beach
---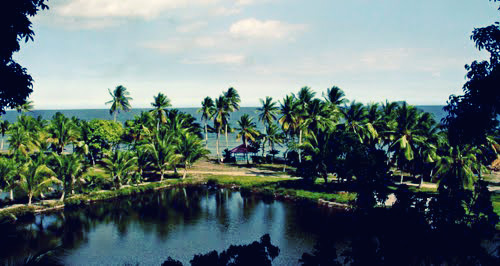 Bentenan beach is administratively part of Southeast Minahasa district. This beach is not so crowded by visitors for its beauty hampered by transportation difficulties. The distance from downtown Manado is probably about 90 kilometers and it takes about 2 hours. Bentenan is a beautiful beach that has a light brownish white sand.
This beach has a coastline which is unusually long because there are no large rocks and small rocks that cut this beach and the location is slightly indented. The beach is formed as a small bay. Alongside this white sandy beach is growing natural hedge in the form of palm trees that form long lines along the coast.
The beach is quite flat and comfortable to do some kind of sport activities. The most famous beach resorts are Bentenan Beach Resort; at the resort there is rental equipment to do water sports like diving and snorkeling.
Moreover, you can also enjoy the beauty of the beach by doing sunbathing, swimming and walking on the beach. Uniquely, in this resort there is ducks water provided, which is kind of water tricycles; an individual passenger boats with maximum of two people that highlighted by paddling in the feet shape resembles a duck. This resort has its own artificial pond that is wide enough and close to the beach.
We can stay at this resort that has good rooms in the form of cottages with a direct view to the beach and affordable price. Looked at from the mainland towards the beach, there will be seen a small island where the terrain is high enough to resemble a small hill called Bentenan Island.
The distance of Bentenan beach from Manado city is about 90 kilometers. The first 2 hours will pass good paving that nice and good condition, for the next half hour will pass a small road leading to the beach with some damage at the road.
We can use personal vehicle or a rental car for about Rp 250,000 per day. We can follow the road between the city of Manado – Tomohon – Kawangkoan – Langowan – Ratahan – Bentenan beach.

Latest News
Everyone knows marine tourism destinations in North Sulawesi, Bunaken Marine Park will definitely be the main reference. In fact, many marine tourism destinations are scattered in the regencies of North Nusa which are no less beautiful. North Nusa is an area that includes three archipelagic districts at the northern tip of Sulawesi. The three archipelagic regencies are Sitaro , Sangihe and Talaud Islands Regency. Previously, these three regencies were part of the Sangihe Talaud Regency before they were divided. In Sitaro Regency (Siau Tagulandang Biaro) itself, there is a lot…
---
Since it was designated as a crossborder destination, Talaud Islands in North Sulawesi, began to improve its tourism. In addition to starting calendar of events, promotions, physical infrastructure to tourist support, Talaud make Sara Island became the mainstay of tourism icon. The uninhabited small island located in the Pacific Ocean is ready to be promoted for marine tourism. The exotic Sara Island with its fine white sandy beach. Regent of Talaud Islands Regency Sri Wahyuni Manalip said, Sara Island is one of the islands ready for sale for tourism activity.…
---
Lenso Dance Lenso is a folk dance from Minahasan, North Sulawesi and Maluku. The word Lenso means handkerchief, hence it uses that property during the dance. This dance is commonly presented in groups during some occasions or party, like wedding party, harvest time, new year, Christmas and many more. The most interesting from this dance is, the participants who are still single, can search for mate during the party by performing this dance. www.indonesia-tourism.com
---
Lembeh Island Lembeh island is part of Bitung administrative area in North Sulawesi. The island is separated from the mainland of Sulawesi Island by the Lembeh Strait. Lembeh island is famous for those who like to dive, because Lembeh island is the best diving spot after Bunaken. The divers recognized Bunaken as the Sea Garden in the Earth, but Lembeh is such a virgin island. It is untouched and almost to be the perfect diving spot. There are so many unusual habitats and exotic organisms live under Lembeh island, like,…
---