Boulevard Area
---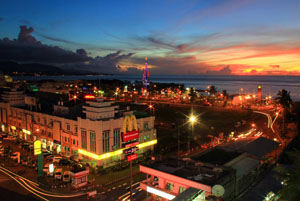 Those who visit Manado, never missed to get to Boulevard area. This is the most hype area for Manado people gathering and enjoys the time, either from children, youngster or adult. In the evenings, the Boulevard Area is a center where you find Manado's best food, and becomes an icon of the city of Manado.
Boulevard area was previously only a center where small vendors and street cafes used to serve various types of Manado cuisine. The food was sold from carts that used to line along the beach front, but the area has now been modernized with the construction of malls and shopping centers lining the Boulevard.
At present, there are four malls here, among these are the Manado Town Square (Mantos), the Boulevard Mall, the Bahu Mall and Mega Mall. Behind the Bahu Mall and Mega Mall you will find cafés, restaurants and food stalls serving various appetizing Manado dishes as well as other Indonesian fare such as gado-gado, bakso (meatballs), fried rice and seafood. Those malls are located at the Pierre Tendean Boulevard, which is a landmark for the local community, which, with its total length of 4.1 kilometers it is the widest and longest coastal street in the region.
This tourist area is presented Manado as a tourist city that has beautiful beaches and exotic cuisine, as well as being featured region for Manado for increasing the interest of tourists to come and visit the city along the coast of Manado. From this area, the Panorama of the nature is such as Manado Tua Island that amid oceans could be seen while enjoying the food. Do not miss the views of the sunset which is clearly visible from this region. If you want to watch the beautiful sunset, make sure to be at the Boulevard before 05.00 pm, especially on Saturdays since all seats are usually taken by visitors who come here from all districts outside Manado.
The Boulevard Area is located along Pierre Tendean Street in Manado and is accessible by public transport or private car. It is strategically located and has become a new attraction for the locals with its many malls, hotels and restaurants.

Latest News
Everyone knows marine tourism destinations in North Sulawesi, Bunaken Marine Park will definitely be the main reference. In fact, many marine tourism destinations are scattered in the regencies of North Nusa which are no less beautiful. North Nusa is an area that includes three archipelagic districts at the northern tip of Sulawesi. The three archipelagic regencies are Sitaro , Sangihe and Talaud Islands Regency. Previously, these three regencies were part of the Sangihe Talaud Regency before they were divided. In Sitaro Regency (Siau Tagulandang Biaro) itself, there is a lot…
---
Since it was designated as a crossborder destination, Talaud Islands in North Sulawesi, began to improve its tourism. In addition to starting calendar of events, promotions, physical infrastructure to tourist support, Talaud make Sara Island became the mainstay of tourism icon. The uninhabited small island located in the Pacific Ocean is ready to be promoted for marine tourism. The exotic Sara Island with its fine white sandy beach. Regent of Talaud Islands Regency Sri Wahyuni Manalip said, Sara Island is one of the islands ready for sale for tourism activity.…
---
Lenso Dance Lenso is a folk dance from Minahasan, North Sulawesi and Maluku. The word Lenso means handkerchief, hence it uses that property during the dance. This dance is commonly presented in groups during some occasions or party, like wedding party, harvest time, new year, Christmas and many more. The most interesting from this dance is, the participants who are still single, can search for mate during the party by performing this dance. www.indonesia-tourism.com
---
Lembeh Island Lembeh island is part of Bitung administrative area in North Sulawesi. The island is separated from the mainland of Sulawesi Island by the Lembeh Strait. Lembeh island is famous for those who like to dive, because Lembeh island is the best diving spot after Bunaken. The divers recognized Bunaken as the Sea Garden in the Earth, but Lembeh is such a virgin island. It is untouched and almost to be the perfect diving spot. There are so many unusual habitats and exotic organisms live under Lembeh island, like,…
---