Bangka Island
---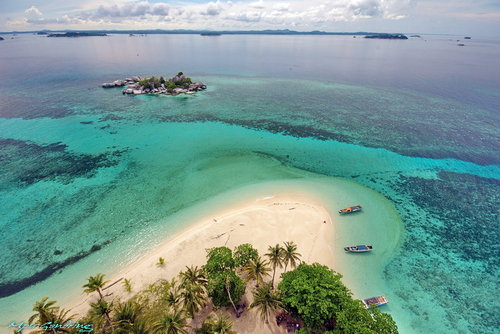 This island lies within east Likupang district, about 60 minutes ride from Manado and continuing with motorboat about 30-40 minutes. Bangka island with beautiful sandy beaches, eternal, fertile, close habited and unique also a sea paradise because it contains a thousands of sea garden attractions including colorful corals with hundreds of ornamental fishes that lives within the spectacular coral reeves. Bangka Island also owns a variety of birds including the Maleo bird.
Bangka Island is a small island located just off the northeastern tip of Sulawesi, Indonesia. Bangka Island is known for its beautiful unspoiled beaches and exotic dive travel. There are four villages at the seashore of the island namely: Lihunu, Kahuku, Libas and Ehe.
Bangka Island is not yet sufficiently known to tourists, most people only recognize Bangka-Belitung Islands that located in the east of Sumatra Island. This small island that located in the northern part of North Sulawesi is becoming known to public since the controversy event in the media on the decisions of local governments that giving permision to the Mining Business License (IUP) to a multinational mining company from China to conduct exploration on the island of Bangka, which then plans to mine iron ore and build a steel smelter.

Latest News
Everyone knows marine tourism destinations in North Sulawesi, Bunaken Marine Park will definitely be the main reference. In fact, many marine tourism destinations are scattered in the regencies of North Nusa which are no less beautiful. North Nusa is an area that includes three archipelagic districts at the northern tip of Sulawesi. The three archipelagic regencies are Sitaro , Sangihe and Talaud Islands Regency. Previously, these three regencies were part of the Sangihe Talaud Regency before they were divided. In Sitaro Regency (Siau Tagulandang Biaro) itself, there is a lot…
---
Since it was designated as a crossborder destination, Talaud Islands in North Sulawesi, began to improve its tourism. In addition to starting calendar of events, promotions, physical infrastructure to tourist support, Talaud make Sara Island became the mainstay of tourism icon. The uninhabited small island located in the Pacific Ocean is ready to be promoted for marine tourism. The exotic Sara Island with its fine white sandy beach. Regent of Talaud Islands Regency Sri Wahyuni Manalip said, Sara Island is one of the islands ready for sale for tourism activity.…
---
Lenso Dance Lenso is a folk dance from Minahasan, North Sulawesi and Maluku. The word Lenso means handkerchief, hence it uses that property during the dance. This dance is commonly presented in groups during some occasions or party, like wedding party, harvest time, new year, Christmas and many more. The most interesting from this dance is, the participants who are still single, can search for mate during the party by performing this dance. www.indonesia-tourism.com
---
Lembeh Island Lembeh island is part of Bitung administrative area in North Sulawesi. The island is separated from the mainland of Sulawesi Island by the Lembeh Strait. Lembeh island is famous for those who like to dive, because Lembeh island is the best diving spot after Bunaken. The divers recognized Bunaken as the Sea Garden in the Earth, but Lembeh is such a virgin island. It is untouched and almost to be the perfect diving spot. There are so many unusual habitats and exotic organisms live under Lembeh island, like,…
---