Sam Ratulangi Tomb Monument
---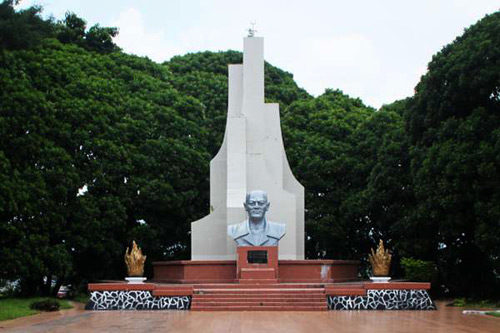 Sam Ratulangi tomb and Monument is located in a cool and hilly area in Wawalintouan Village, Tondano Minahasa District, North Sulawesi. We can rent a horse-drawn wagon in front of Tondano Park City and it takes only a few minutes just to get in the front gate of Sam Ratulangi tomb.
Inside the tomb park, we can see the orange stairs with high landscape like a background of the tomb. By climbing these stairs the visitors will get into the tomb that located in the uphill. The stairs are clean and tidy and seems that well-maintained. The green nuance around the tomb is also make the shady and chilling atmosphere.
At in front of the park, there is mural wall that located in the bottom left stair that showing the role and the contribution from Sam Ratulangi in education part. Sam Ratulangi or born as DR Gerungan Saul Samuel Jozias Ratulangi is an Indonesian national hero that was born in Tondano on November 5, 1890. He was graduated as Doctor for physic and math from University of Zurich, Switzerland.
The role of Sam Ratulangi in Indonesia politic chair happened during his inaguration by being the member of Volksraad in 1927 and struggling to fight the rights. At another side of the mural wall, there are scenes that showing the fight of Sam Ratulangi and Indonesia people struggling against colonialism. As a professional journalist and the one who ran for politic, Sam Ratulangi publishing a book with title "Indonesia in den Pacific" on June 1, 1937, where he warn about the Japanese military threat and the possibility for Japan attacks Indonesia because of the natural resources that Indonesia has. One of quote of Sam Ratulangi that famous in Manado is "Manusia hidup untuk memanusiakan manusia" which mean human being live for humanizing others.
The tomb of Sam Ratulangi is in the form of Waruga, a stone grave for Minahasa ancestor with the background of Sam Ratulangi Monument. There is a caretaker of the tomb that always ready to guide the visitors who come and enjoy the telling story.

Latest News
Everyone knows marine tourism destinations in North Sulawesi, Bunaken Marine Park will definitely be the main reference. In fact, many marine tourism destinations are scattered in the regencies of North Nusa which are no less beautiful. North Nusa is an area that includes three archipelagic districts at the northern tip of Sulawesi. The three archipelagic regencies are Sitaro , Sangihe and Talaud Islands Regency. Previously, these three regencies were part of the Sangihe Talaud Regency before they were divided. In Sitaro Regency (Siau Tagulandang Biaro) itself, there is a lot…
---
Since it was designated as a crossborder destination, Talaud Islands in North Sulawesi, began to improve its tourism. In addition to starting calendar of events, promotions, physical infrastructure to tourist support, Talaud make Sara Island became the mainstay of tourism icon. The uninhabited small island located in the Pacific Ocean is ready to be promoted for marine tourism. The exotic Sara Island with its fine white sandy beach. Regent of Talaud Islands Regency Sri Wahyuni Manalip said, Sara Island is one of the islands ready for sale for tourism activity.…
---
Lenso Dance Lenso is a folk dance from Minahasan, North Sulawesi and Maluku. The word Lenso means handkerchief, hence it uses that property during the dance. This dance is commonly presented in groups during some occasions or party, like wedding party, harvest time, new year, Christmas and many more. The most interesting from this dance is, the participants who are still single, can search for mate during the party by performing this dance. www.indonesia-tourism.com
---
Lembeh Island Lembeh island is part of Bitung administrative area in North Sulawesi. The island is separated from the mainland of Sulawesi Island by the Lembeh Strait. Lembeh island is famous for those who like to dive, because Lembeh island is the best diving spot after Bunaken. The divers recognized Bunaken as the Sea Garden in the Earth, but Lembeh is such a virgin island. It is untouched and almost to be the perfect diving spot. There are so many unusual habitats and exotic organisms live under Lembeh island, like,…
---