Lokon Mountain
---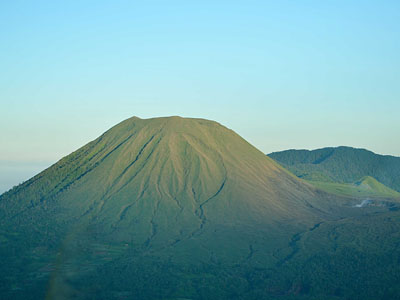 Lokon is a twin volcano together with Empung Mountain and is located close to the pleasantly cool town of Tomohon city, which is surrounded by agricultural land. It settled in the northern Sulawesi, Indonesia, roughly 10 km south of Manado. Both rise above the Tondano plain and are among active volcanoes of Sulawesi. Mount Lokon has a flat and craterless top. Its active crater is located on its foot, named "Tompaluan" crater.
At all recent eruptions have originated from the Tompaluan crater which lies in the saddle between the two peaks. When most people say they climbing for Lokon, it means that they visited the crater and most guides will think you only want to go to the crater, instead of the top of it.
The route to reach Lokon Mt is mostly passing a dry river bed that is actually an old lava flow from the Mountain. This trip can be quite slippery because the surface is so smooth. It takes 2 to 3 hours to reach the Crater Lake from Tomohon. Most people stop at the crater rarely go to the summit, for a very good reason.
The steeps slopes of the dome shaped in Lokon Mountain is quickly become dominated by 8 ft tall grasses that are razor-sharp. It is highly suggested for you to wear some gardening gloves and long trousers. If it is possible, you should also bring a machete to hack away the worst of the grasses that will be encroaching on the narrow path. The true summit on the relatively flat top is hard to find because of the grasses, but a trail is identifiable that winds through to a high point.
For those who are willing to hike Lokon Mountain but not really sure about the exact information can directly go to the Volcanological Center in Tomohon. Here, you can find out information about the activity of volcanoes in the area and obtain an English speaking guide. There are several guides have quite good knowledge about the history and geology of the area.
However, all the guesthouses and hotels will also be able to provide a guide too. A good thing about the hike to Lokon is that it starts from wherever you chose to stay in Tomohon. You begin by wandering along pleasant country lanes with good views of Lokon, before you have to pass by a small stone quarry and start the climbing to the crater.
For additional info, there is another overgrown crater nears the summit of Lokon, avoid this area and skirt around it to the left to reach the summit area. There is no view from the summit unless you cut away at the grass.

Latest News
Everyone knows marine tourism destinations in North Sulawesi, Bunaken Marine Park will definitely be the main reference. In fact, many marine tourism destinations are scattered in the regencies of North Nusa which are no less beautiful. North Nusa is an area that includes three archipelagic districts at the northern tip of Sulawesi. The three archipelagic regencies are Sitaro , Sangihe and Talaud Islands Regency. Previously, these three regencies were part of the Sangihe Talaud Regency before they were divided. In Sitaro Regency (Siau Tagulandang Biaro) itself, there is a lot…
---
Since it was designated as a crossborder destination, Talaud Islands in North Sulawesi, began to improve its tourism. In addition to starting calendar of events, promotions, physical infrastructure to tourist support, Talaud make Sara Island became the mainstay of tourism icon. The uninhabited small island located in the Pacific Ocean is ready to be promoted for marine tourism. The exotic Sara Island with its fine white sandy beach. Regent of Talaud Islands Regency Sri Wahyuni Manalip said, Sara Island is one of the islands ready for sale for tourism activity.…
---
Lenso Dance Lenso is a folk dance from Minahasan, North Sulawesi and Maluku. The word Lenso means handkerchief, hence it uses that property during the dance. This dance is commonly presented in groups during some occasions or party, like wedding party, harvest time, new year, Christmas and many more. The most interesting from this dance is, the participants who are still single, can search for mate during the party by performing this dance. www.indonesia-tourism.com
---
Lembeh Island Lembeh island is part of Bitung administrative area in North Sulawesi. The island is separated from the mainland of Sulawesi Island by the Lembeh Strait. Lembeh island is famous for those who like to dive, because Lembeh island is the best diving spot after Bunaken. The divers recognized Bunaken as the Sea Garden in the Earth, but Lembeh is such a virgin island. It is untouched and almost to be the perfect diving spot. There are so many unusual habitats and exotic organisms live under Lembeh island, like,…
---