Mount Klabat
---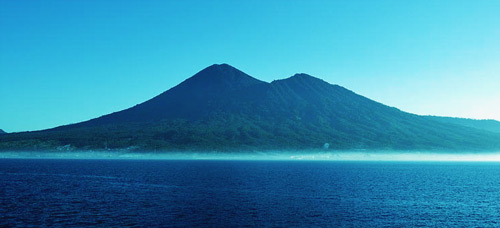 Klabat is the highest mountain in North Sulawesi province. The peak of the Mountain reaches a height of about 2100 meters. This mountain, by Tonsea community (North Minahasa tribe) also called as Mount Tamporok. This mountain is a natural tourist attraction and it can be traced from Airmadidi, the apital of North Minahasa Regency.
Klabat Mountain is a volcano that is no longer active. The top of Mount Klabat has crater shaped with a small lake occupying the clear sparkling water. To hike Klabat through Madidi water area can be reach within 8 hours of travel.
The word Klabat is taken from the Minahasa language "Kalawat", the dialect from Tonsea "Kalabat". Kalawat is the name of local wildlife which is also called babirusa. This word is mentioned by Portuguese sailors "Calabets" as the name of a mountain on the island of Sulawesi, the word is named as the name of the island that later become Calabes = Celebes and it turn to be Sulawesi.
Mount Klabat is very accessible; it is only 1 hour drive from Manado along the main road towards Bitung by car, and there are regular buses. The starting point for the hike is the town of Airmadidi, which is at an elevation of only 260 m. You are encouraged to register in the guestbook at the police station on the main road. The police can also recommend a guide, although local guides indicated they were planning to set up a small trekking centre office near the police station. The guides can also act as porters and you can rent tents and sleeping bags, and other equipment you require.
The trail is in good condition and it is a steep but steady climb. It is possible to complete the climb as a day hike, although the 1,750 m elevation gain makes this quite challenging. The following are the three popular options from Airmadidi, and require 4 to 5 hours for the ascent and 4 hours for the descent:
Day hike for sunrise is starting at 1 or 2 am. Obviously you need a torch/flashlight and the mental energy to climb through the night.
Day hike from sunrise is starting at 5 am, you climb as the sun rises and hopefully make it to the summit before the midday clouds gather on the summit; and Overnight trekking is tart with enough time to get to the summit to set up camp and see the sunset. It's better to start early to avoid the heat in the first part of the climb.
To go to this location, you can easily reach because there are plenty of public transportation from Manado. A taxi costs just over Rp100,000.

Latest News
Everyone knows marine tourism destinations in North Sulawesi, Bunaken Marine Park will definitely be the main reference. In fact, many marine tourism destinations are scattered in the regencies of North Nusa which are no less beautiful. North Nusa is an area that includes three archipelagic districts at the northern tip of Sulawesi. The three archipelagic regencies are Sitaro , Sangihe and Talaud Islands Regency. Previously, these three regencies were part of the Sangihe Talaud Regency before they were divided. In Sitaro Regency (Siau Tagulandang Biaro) itself, there is a lot…
---
Since it was designated as a crossborder destination, Talaud Islands in North Sulawesi, began to improve its tourism. In addition to starting calendar of events, promotions, physical infrastructure to tourist support, Talaud make Sara Island became the mainstay of tourism icon. The uninhabited small island located in the Pacific Ocean is ready to be promoted for marine tourism. The exotic Sara Island with its fine white sandy beach. Regent of Talaud Islands Regency Sri Wahyuni Manalip said, Sara Island is one of the islands ready for sale for tourism activity.…
---
Lenso Dance Lenso is a folk dance from Minahasan, North Sulawesi and Maluku. The word Lenso means handkerchief, hence it uses that property during the dance. This dance is commonly presented in groups during some occasions or party, like wedding party, harvest time, new year, Christmas and many more. The most interesting from this dance is, the participants who are still single, can search for mate during the party by performing this dance. www.indonesia-tourism.com
---
Lembeh Island Lembeh island is part of Bitung administrative area in North Sulawesi. The island is separated from the mainland of Sulawesi Island by the Lembeh Strait. Lembeh island is famous for those who like to dive, because Lembeh island is the best diving spot after Bunaken. The divers recognized Bunaken as the Sea Garden in the Earth, but Lembeh is such a virgin island. It is untouched and almost to be the perfect diving spot. There are so many unusual habitats and exotic organisms live under Lembeh island, like,…
---