Montehage Island
---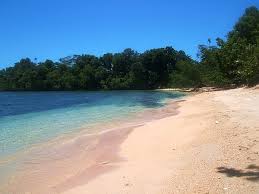 This Island is located in the middle of the ocean and part of Bunaken National Park. The exact location is in Wori District, North Minahasa Regency, North Sulawesi. This island is an inhabited island. Inside the island, there are four villages that inhabit the island which are Tangkasi Village, Buhias Village, Tinongko Village and Bongo Village.
Despite being in the middle of the sea, but most of the livelihood of the population are farmers and not fishermen. The manager of the island is the Hall of business from Bunaken National Marine Park-Manado, and they have rules that allowing Mantehage Island residents to catch fish to a certain limit. Perhaps, this factor makes those local people to choose to be farmers than fishermen.
Mantehage Island is also known by the name of Mantehrawu or Manterao Island. The island has beautiful natural scenery and it overgrown by mangroves. There are various types of fishes; coral reefs and marine life have been found in the waters of this island. The wave is also quiet and the current is moderate. So, it is suitable for snorkeling and diving activities.
On this island, there are several food stalls that provide seafood and Manado porridge. However, there has been no inn or hotel on the island. When you want to stay, you can spend the night in local homes or stay at Siladen Island. The distance from Mantehage Island to Siladen Island is only about an hour's drive.
To go to the location of Mantehage Island, you can go through the city of Manado. From the center of Manado city, you can go directly to the Port of Manado. From the port, you can rent a boat or speedboat to get to the Mantehage Island for about an hour's drive.

Latest News
Everyone knows marine tourism destinations in North Sulawesi, Bunaken Marine Park will definitely be the main reference. In fact, many marine tourism destinations are scattered in the regencies of North Nusa which are no less beautiful. North Nusa is an area that includes three archipelagic districts at the northern tip of Sulawesi. The three archipelagic regencies are Sitaro , Sangihe and Talaud Islands Regency. Previously, these three regencies were part of the Sangihe Talaud Regency before they were divided. In Sitaro Regency (Siau Tagulandang Biaro) itself, there is a lot…
---
Since it was designated as a crossborder destination, Talaud Islands in North Sulawesi, began to improve its tourism. In addition to starting calendar of events, promotions, physical infrastructure to tourist support, Talaud make Sara Island became the mainstay of tourism icon. The uninhabited small island located in the Pacific Ocean is ready to be promoted for marine tourism. The exotic Sara Island with its fine white sandy beach. Regent of Talaud Islands Regency Sri Wahyuni Manalip said, Sara Island is one of the islands ready for sale for tourism activity.…
---
Lenso Dance Lenso is a folk dance from Minahasan, North Sulawesi and Maluku. The word Lenso means handkerchief, hence it uses that property during the dance. This dance is commonly presented in groups during some occasions or party, like wedding party, harvest time, new year, Christmas and many more. The most interesting from this dance is, the participants who are still single, can search for mate during the party by performing this dance. www.indonesia-tourism.com
---
Lembeh Island Lembeh island is part of Bitung administrative area in North Sulawesi. The island is separated from the mainland of Sulawesi Island by the Lembeh Strait. Lembeh island is famous for those who like to dive, because Lembeh island is the best diving spot after Bunaken. The divers recognized Bunaken as the Sea Garden in the Earth, but Lembeh is such a virgin island. It is untouched and almost to be the perfect diving spot. There are so many unusual habitats and exotic organisms live under Lembeh island, like,…
---