Hotels In North Sulawesi
---
Swiss Belhotel Maleosan Manado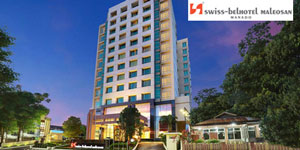 Surrounded by breathtaking beauty, we are the most luxurious four-star hotel in Manado, North Sulawesi. Treat yourself to a panoramic view of the sea with lush green mountains serving as the backdrop. Our extensive facilities and spectacular location make us a perfect choice for business and leisure travelers alike. A pleasant thirty minutes' journey from Sam Ratulangi International Airport, we are right in the centre of the ecotourism area and business districts of Jalan Jenderal Sudirman, with easy access to entertainment venues and tourist attractions.
Jl. Jend. Sudirman Kav. 85 - 87
Manado, North Sulawesi
Indonesia
Phone: +62 431 861 000
Web: swiss-belhotel.com
The Highland Resort & Spa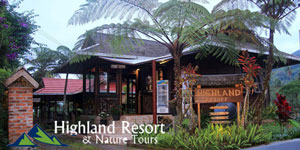 Many people think of North Sulawesi as mainly being a place for diving and snorkelling. There is a lot more though! Visiting Manado and not spending some time exploring the beautiful Minahasa Highland means that you miss a good part of this area's wonderful attractions. The Highland Resort is the ideal place to base yourself, for however long you choose to stay with us. Our unique resort offers a cool respite from the tropical heat of the town and a quiet venue to relax and enjoy the lush vegetation and birdlife found in the Highlands.
Jl. Kimereng Kali Jaga VI, Kinilow Tomohon, Minahasa
Tomohon, North Sulawesi 95362
Indonesia
Phone: +62 431 353333
Web: highlandresort.info
Sahid Kawanua Hotel Manado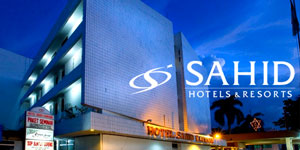 Offers a wide range of facilities to maximize your stay in Manado. For the convenience of guests, the hotel offers free Wi - Fi in all rooms, 24- hour room service, Wi - Fi in public areas, car park, room service. Step into one of 88 rooms from this 3 star hotel and enjoy a number of amenities such as internet access - WiFi, WiFi internet access ( free of charge ), air conditioning, wake-up service and many more.
Jl. Sam Ratulangi No.1, Wenang Utara, Wenang
Manado, North Sulawesi
Indonesia
Phone: +62 431 867777
Web: sahidhotels.com
Murex Dive Resort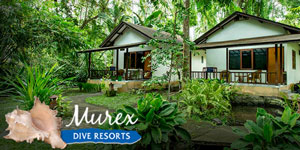 Situated in Manado, 10 km from Manado Harbor, Murex Dive Resort boasts an outdoor pool and a private beach area. The hotel has a spa centre and water sports facilities, and guests can enjoy a meal at the restaurant. Free private parking is available on site. Some rooms include a seating area to relax in after a busy day. You will find a kettle in the room. For your comfort, you will find free toiletries and a hairdryer. Murex Dive Resort features free WiFi . There is a gift shop at the property. You can engage in various activities, such as snorkelling and diving. Bahu Mall is 7 km away, while Sam Ratulangi International Airport is 21 km from Murex Dive Resort.
Jalan Raya Trans Sulawesi Desa Kalasey 1
Minahasa, North Sulawesi 95361
Indonesia
Phone: +62 431 838774
Web: murexdive.com

Latest News
Everyone knows marine tourism destinations in North Sulawesi, Bunaken Marine Park will definitely be the main reference. In fact, many marine tourism destinations are scattered in the regencies of North Nusa which are no less beautiful. North Nusa is an area that includes three archipelagic districts at the northern tip of Sulawesi. The three archipelagic regencies are Sitaro , Sangihe and Talaud Islands Regency. Previously, these three regencies were part of the Sangihe Talaud Regency before they were divided. In Sitaro Regency (Siau Tagulandang Biaro) itself, there is a lot…
---
Since it was designated as a crossborder destination, Talaud Islands in North Sulawesi, began to improve its tourism. In addition to starting calendar of events, promotions, physical infrastructure to tourist support, Talaud make Sara Island became the mainstay of tourism icon. The uninhabited small island located in the Pacific Ocean is ready to be promoted for marine tourism. The exotic Sara Island with its fine white sandy beach. Regent of Talaud Islands Regency Sri Wahyuni Manalip said, Sara Island is one of the islands ready for sale for tourism activity.…
---
Lenso Dance Lenso is a folk dance from Minahasan, North Sulawesi and Maluku. The word Lenso means handkerchief, hence it uses that property during the dance. This dance is commonly presented in groups during some occasions or party, like wedding party, harvest time, new year, Christmas and many more. The most interesting from this dance is, the participants who are still single, can search for mate during the party by performing this dance. www.indonesia-tourism.com
---
Lembeh Island Lembeh island is part of Bitung administrative area in North Sulawesi. The island is separated from the mainland of Sulawesi Island by the Lembeh Strait. Lembeh island is famous for those who like to dive, because Lembeh island is the best diving spot after Bunaken. The divers recognized Bunaken as the Sea Garden in the Earth, but Lembeh is such a virgin island. It is untouched and almost to be the perfect diving spot. There are so many unusual habitats and exotic organisms live under Lembeh island, like,…
---