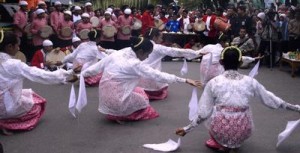 Lenso Dance
Lenso is a folk dance from Minahasan, North Sulawesi and Maluku. The word Lenso means handkerchief, hence it uses that property during the dance.
This dance is commonly presented in groups during some occasions or party, like wedding party, harvest time, new year, Christmas and many more.
The most interesting from this dance is, the participants who are still single, can search for mate during the party by performing this dance.