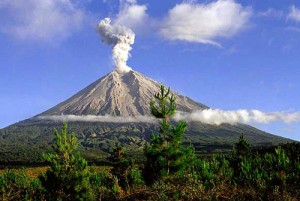 Semeru Mountain
Semeru Mountain, most people recognize as just Semeru, is a volcano mountain that settled in East Java, precisely in Lumajang regency. Semeru in the highest mountain in Java which has 3.676 meter above sea level and it also known as the Mahameru or Great Mountain.
The name Semeru was derived from Hindu-Buddhist mythical mountain of Meru or Semeru, the abode of gods.
The summit crater in Semeru is called Jonggring Saloka. In 1913 and 1946 the Jonggring Saloka Crater had dome with a height of 3744.8 M until end November 1973. At the southern side, the dome is broke the edge of the crater, which causes the flowing lava into the south side including Pronojiwo and Candipuro in Lumajang.
The most incredible part of this mountain is the fact that this mountain is still erupts periodically. It sometimes happened in every 20 minutes, the volcano will belches out a huge cloud of steam and smoke. It is also together with the ashes and stones.
In times, Semeru's eruptive history is extensive. Since 1818, there were at leat55 eruptions that have been recorded. Those eruptions are consisting lava flows and pyroclastic flows. Since 1967, Semeru has been in a state of near-content eruption until these days. Today, the small eruption is happen every 20 minutes or so.
Although, the trekking path to Semeru is not the easy way to hike, but those who like adventurous thing are always craving to climb up The Mahameru. The tourists who want to go to Semeru can start their journey from Ranu Pane to the North, but it is not the easy way to go through.
It is advisable for not climbing the peak of Semeru, which is Jonggring Saloka. Also, it is not recommended to climb from the south side, for there will be poisonous gas and lava flows, this toxic gas known as Wedhus Gembel. Wedhus Gembel, in Javanese terms it means dreadlocks sheep.
The flora that live in Semeru are vary, but mostly are dominated by pine trees, acacia and jamuju. There is also Edelweiss and endemic orchid that can be found around the peak of Semeru. While, there are also some fauna that can be found like, panther, leaf monkey, civet, deer, mouse deed and more.
For those who want to conquer Mount Semeru, they have to ask permission and need to prepare planning before hiking. When you have the permission, the heaven is on the way.