Batu Dinding Kilo Tiga
---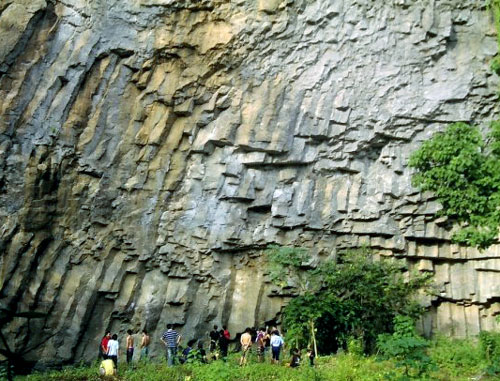 Besides the natural attractions and marine tourism, Sulawesi is also presents a variety of outdoor activity like rafting. But there is one more attractions, which is actually more extreme than other, that you've never visited before. This tourism site named Batu Dinding Kilo Tiga, which mean the stone wall Km 3, and this is suitable for those who love adrenaline rush while watching the beauty the scenery around the place.
Batu Dinding Kilo Tiga is one of the most extreme sites on the island of Sulawesi. This tourist spot is a natural cliff towering about 90 meters. It has unique shape resembles a beam line of the stacked inverted multi-storey.
The splendor of this stone wall will be visible only if you see it from a distance. However, you will feel a great admiration when you see it up close. The beam arrangement can come together and arranged in such a way. The visitor will surely be amazed with the beauty of the stone that made this cliff.
Besides having a shape that is quite unique, the degree of difficulty of the climbing routes from this stone wall is also quite difficult. Some National sportsmen climbing acknowledge that this wall is a natural cliff that very difficult to be conquered among other cliffs in Indonesia. On this exotic rocky wall, there are nine climbing paths with different names and it save interesting stories on each climbing path. For instance:

Ofu track: Ofu, according to local language means bee. The name taken from the condition that there are bees colony during the climbing track
Spider track: this track just like a spider hive, it has long and many difficult tracks.
Hang dog track: this is the long hanging track.
Tragedy track: this is the track that also becomes the reminder for tragedy that happend when one of the climbers pass away during the flood from Ranoyapo river, near to the cliff.
Batu Dinding Kilo Tiga is located in Kilometer 3 village, Amurang sub-district, South Minahasa. To reach this location is can be done from Amurang, which also the capital city from south Minahasa, by using private car for minutes. If you want to use public transportation, we can take it one way and we continue to use Ojek to direct location and take some short walk.

Latest News
Everyone knows marine tourism destinations in North Sulawesi, Bunaken Marine Park will definitely be the main reference. In fact, many marine tourism destinations are scattered in the regencies of North Nusa which are no less beautiful. North Nusa is an area that includes three archipelagic districts at the northern tip of Sulawesi. The three archipelagic regencies are Sitaro , Sangihe and Talaud Islands Regency. Previously, these three regencies were part of the Sangihe Talaud Regency before they were divided. In Sitaro Regency (Siau Tagulandang Biaro) itself, there is a lot…
---
Since it was designated as a crossborder destination, Talaud Islands in North Sulawesi, began to improve its tourism. In addition to starting calendar of events, promotions, physical infrastructure to tourist support, Talaud make Sara Island became the mainstay of tourism icon. The uninhabited small island located in the Pacific Ocean is ready to be promoted for marine tourism. The exotic Sara Island with its fine white sandy beach. Regent of Talaud Islands Regency Sri Wahyuni Manalip said, Sara Island is one of the islands ready for sale for tourism activity.…
---
Lenso Dance Lenso is a folk dance from Minahasan, North Sulawesi and Maluku. The word Lenso means handkerchief, hence it uses that property during the dance. This dance is commonly presented in groups during some occasions or party, like wedding party, harvest time, new year, Christmas and many more. The most interesting from this dance is, the participants who are still single, can search for mate during the party by performing this dance. www.indonesia-tourism.com
---
Lembeh Island Lembeh island is part of Bitung administrative area in North Sulawesi. The island is separated from the mainland of Sulawesi Island by the Lembeh Strait. Lembeh island is famous for those who like to dive, because Lembeh island is the best diving spot after Bunaken. The divers recognized Bunaken as the Sea Garden in the Earth, but Lembeh is such a virgin island. It is untouched and almost to be the perfect diving spot. There are so many unusual habitats and exotic organisms live under Lembeh island, like,…
---