Siladen Island
---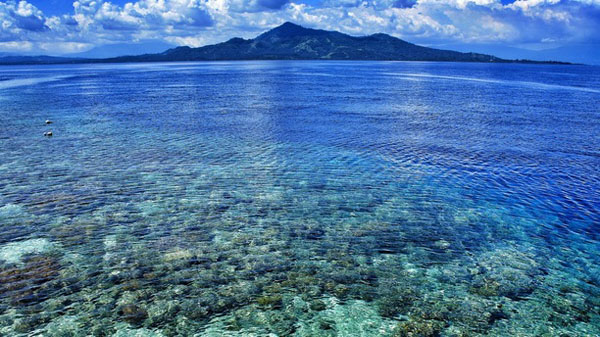 Siladen Island is one of the five islands in the Bunaken National Park in Manado, North Sulawesi. Siladen Island has a marine park with numerous colorful fishes and coral reefs as well as a beautiful cave. Siladen Island is located in the northeast of Bunaken, about 8 miles from the city center which can be reached in 45 minutes by boat. Siladen Island has an area of 31.25 hectares, and keeps the charming beauty of marine tourism.
Siladen Island is known as a quiet tourism island; this place will be a perfect hideaway for those who want to alienate a moment from the bustle city. Here you will get a pleasant experience resting and sunbathing while enjoying the splash of sunlight. On this island, there is catamaran (glass boat), diving center, cottages, and food stalls to complete your holiday. If Bunaken is famous for the beauty of the sea, Siladen is famous by its highlight for the beauty of the coastline, and it makes the tourists prefer to sunbathe on this beach. The stretch of white sandy beach feels very dominant on this small island.
However, this place is not only a great place for profesional divers, but also a comfortable place for inexperienced divers. Those who give visit to this island can do many activities like enjoying the park by using glass boat (catamaran), snorkeling, and diving, underwater photography as well as sunbathing on the beach. The beauty of the island is a major force in Manado's sights.The price for renting the diving and snorkel facility in Siladen Island ranges from Rp.100 thousand to Rp.300 thousand. You can negotiate the price, as well as determine what facilities would you be and you need.
The journey to Siladen Island is can be reached via two ways. First is by using public boat. These boats will be available one time in a day and from Manado it departs at 1-3 pm (depending on tides). This boat will return to Manado in the next morning around 7am. Second is by using rented speed boat. In this way, you are free to decide when to leave and either staying at Siladen or not. The speedboat rental fee for one trip is approximately Rp.250 thousand – Rp.300 thousand per ship. If you want to hire a return trip in the same day, the cost reaches Rp.600 thousand.

Latest News
Everyone knows marine tourism destinations in North Sulawesi, Bunaken Marine Park will definitely be the main reference. In fact, many marine tourism destinations are scattered in the regencies of North Nusa which are no less beautiful. North Nusa is an area that includes three archipelagic districts at the northern tip of Sulawesi. The three archipelagic regencies are Sitaro , Sangihe and Talaud Islands Regency. Previously, these three regencies were part of the Sangihe Talaud Regency before they were divided. In Sitaro Regency (Siau Tagulandang Biaro) itself, there is a lot…
---
Since it was designated as a crossborder destination, Talaud Islands in North Sulawesi, began to improve its tourism. In addition to starting calendar of events, promotions, physical infrastructure to tourist support, Talaud make Sara Island became the mainstay of tourism icon. The uninhabited small island located in the Pacific Ocean is ready to be promoted for marine tourism. The exotic Sara Island with its fine white sandy beach. Regent of Talaud Islands Regency Sri Wahyuni Manalip said, Sara Island is one of the islands ready for sale for tourism activity.…
---
Lenso Dance Lenso is a folk dance from Minahasan, North Sulawesi and Maluku. The word Lenso means handkerchief, hence it uses that property during the dance. This dance is commonly presented in groups during some occasions or party, like wedding party, harvest time, new year, Christmas and many more. The most interesting from this dance is, the participants who are still single, can search for mate during the party by performing this dance. www.indonesia-tourism.com
---
Lembeh Island Lembeh island is part of Bitung administrative area in North Sulawesi. The island is separated from the mainland of Sulawesi Island by the Lembeh Strait. Lembeh island is famous for those who like to dive, because Lembeh island is the best diving spot after Bunaken. The divers recognized Bunaken as the Sea Garden in the Earth, but Lembeh is such a virgin island. It is untouched and almost to be the perfect diving spot. There are so many unusual habitats and exotic organisms live under Lembeh island, like,…
---