Temboko Lehi Beach
---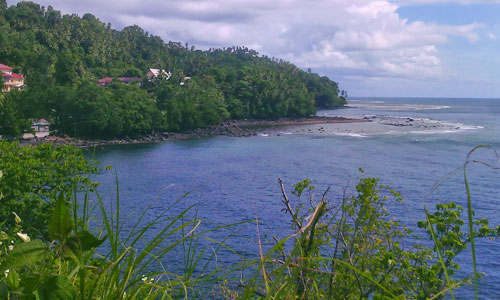 Temboko Lehi beach or also known as Lehi Beach is one of the unique beaches in Indonesia. That located in the sub-district of West Siau, District Siau Tagulandang Biaro (Sitaro), North Sulawesi Province. The distance is about 137 km from Manado city center.
This beach has bluish nuance sea and quite beautiful panorama around it. The thing that makes it more unique is the sea water that does not feel cold but hot. In fact, this beach is located at the foot of Gunung Api Karengetang that still active. That makes along its coastline, the sea water feel hot. Even the seawater is not as salty as common sea water.
The hot sea water around the shore makes no fishes swimming around the beach, even if you digging the sand beaches, you can see the hot sea water vapor poking into the air. So, it is better for you not to immediately swimming into the shores. When you want to feel the warm sea water at Lehi Beach, you can go to a small pool that located around the beach. That pool is kind of bath tub that being used by local residents for bathing purposes since long time ago. Do not worry about the water, because the water in the pond is not that hot but warm enough to get shower.
Beside the bath tub, you can also enjoy the warm sea water at Lehi beach in the rugged and rocky coast. The location is a bit hidden. You have to walk a few meters away from the sandy beach, and treking down the large stones to find the curve of the rocks. At the location of the rocks here, you can feel a warm sensation from hot water vapor that coming out from the rocks.
At this coastal area the facilities are still unmaintained, but the local government has been improved some existing facilities in this coastal region, like developing relaxing places for visitors, public toilets, and improve bathing pool for the visitors. You can also get some lodging and places to eat around the District Sitaro.
The nearest town to get to the location of this beach is via Manado. The distance is about 137 km from Manado city center. From the center of Manado, you can go directly to the Port of Manado by using ground vehicles. From Manado Harbour, the journey continues by ship and heading to Pelabuhan Pehe that located on the Island of Siau, and it takes about four hours away. From Port Pehe, you can continue the journey by motorcycle taxi to go to the beach location, and it might take about 20 minutes away.

Latest News
Everyone knows marine tourism destinations in North Sulawesi, Bunaken Marine Park will definitely be the main reference. In fact, many marine tourism destinations are scattered in the regencies of North Nusa which are no less beautiful. North Nusa is an area that includes three archipelagic districts at the northern tip of Sulawesi. The three archipelagic regencies are Sitaro , Sangihe and Talaud Islands Regency. Previously, these three regencies were part of the Sangihe Talaud Regency before they were divided. In Sitaro Regency (Siau Tagulandang Biaro) itself, there is a lot…
---
Since it was designated as a crossborder destination, Talaud Islands in North Sulawesi, began to improve its tourism. In addition to starting calendar of events, promotions, physical infrastructure to tourist support, Talaud make Sara Island became the mainstay of tourism icon. The uninhabited small island located in the Pacific Ocean is ready to be promoted for marine tourism. The exotic Sara Island with its fine white sandy beach. Regent of Talaud Islands Regency Sri Wahyuni Manalip said, Sara Island is one of the islands ready for sale for tourism activity.…
---
Lenso Dance Lenso is a folk dance from Minahasan, North Sulawesi and Maluku. The word Lenso means handkerchief, hence it uses that property during the dance. This dance is commonly presented in groups during some occasions or party, like wedding party, harvest time, new year, Christmas and many more. The most interesting from this dance is, the participants who are still single, can search for mate during the party by performing this dance. www.indonesia-tourism.com
---
Lembeh Island Lembeh island is part of Bitung administrative area in North Sulawesi. The island is separated from the mainland of Sulawesi Island by the Lembeh Strait. Lembeh island is famous for those who like to dive, because Lembeh island is the best diving spot after Bunaken. The divers recognized Bunaken as the Sea Garden in the Earth, but Lembeh is such a virgin island. It is untouched and almost to be the perfect diving spot. There are so many unusual habitats and exotic organisms live under Lembeh island, like,…
---