North Sulawesi Province
---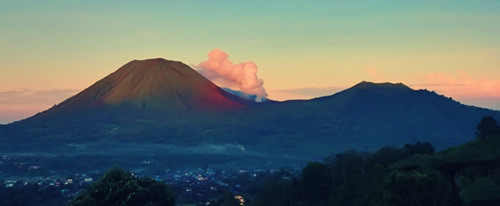 MINAHASA
Minahasa Region wide is about 1922,55 km2 with number of residents 441671 men (based on resident census in 2000). The capital of Minahasa region is Tondano, which located in plateau 700 m to sea level, encircled by magnificent hinterland with cold mountainous climate. Minahasa people trust a legend that they are the descendant of Toar and Lumimuut. The proof at the past time is Waruga, a gravestone in Sawangan Airmadidi and Watu Pinabetengan in Tompaso. At XV century, before Spain nation had arrived, a decision being taken by 7 tribe heads about division of each tribe / clump in Watu Pinabetengan. Minahasa word means merger from various tribes that taken away from word 'esa' or 'one', therefore its region named Minahasa.
TRADITIONAL MUSIC INSTRUMENTS
Minahasa people hardly love music. The famous traditional music is Bambu and Kolintang. Orchestra bamboo applies castanets that made from bamboo (exclusive bamboo), sometimes made of bronze (bamboo clarinet) or tin (bamboo zinc). Kolintang come from Minahasa area. Kolintang is looks like Xylophone (xylophone which made from wooden) and famous in all of countries. Music Bia, quad scallop-shell is other castanets that less popular, but still applied in some places in North Sulawesi.
TRADITIONAL DANCE
Maengket is common name for dance traditional drama that used in some places in Minahasa. There are 3 folk dances:
Makamberu: a dance that is describing / depict when it crop and some choreographies remind at poem / love rhyme.
Marambak: that is carrying out to build a new house and under developed of era in traditional value.
Mah'laya: usually it is humor and generally full of joviality.
Kabasaran: sometime called as "Cakalele Minahasa", what carried out as welcome dance to greet the 'Datuk' who had visited.
Tumatenden: it is a nymph love story, which describes folklore of Tumatenden.
Lenso Dance: it is a dance that being taken away from Maengket, where the dancers apply hand broom when they were dancing.
THE MEANING of MINAHASA SYMBOL
Shield Form: An ability Symbol to face various challenges.
Motto I YAYAT SUSANTI: ready with intention strive for the shake of development.
Bird Manguni: the bird type in Minahasa, where plenty is admired by people because it can give sign if something there will be, and have deep feeling, and its eye is far sharply stare.
Number of wings 17 sheets and 5 sheets, mean the proclamation number of Republic of Indonesia independence, which based on Five Principles.
Chest part is coconut palm symbol, as Minahasa main commodity since former.

Latest News
Everyone knows marine tourism destinations in North Sulawesi, Bunaken Marine Park will definitely be the main reference. In fact, many marine tourism destinations are scattered in the regencies of North Nusa which are no less beautiful. North Nusa is an area that includes three archipelagic districts at the northern tip of Sulawesi. The three archipelagic regencies are Sitaro , Sangihe and Talaud Islands Regency. Previously, these three regencies were part of the Sangihe Talaud Regency before they were divided. In Sitaro Regency (Siau Tagulandang Biaro) itself, there is a lot…
---
Since it was designated as a crossborder destination, Talaud Islands in North Sulawesi, began to improve its tourism. In addition to starting calendar of events, promotions, physical infrastructure to tourist support, Talaud make Sara Island became the mainstay of tourism icon. The uninhabited small island located in the Pacific Ocean is ready to be promoted for marine tourism. The exotic Sara Island with its fine white sandy beach. Regent of Talaud Islands Regency Sri Wahyuni Manalip said, Sara Island is one of the islands ready for sale for tourism activity.…
---
Lenso Dance Lenso is a folk dance from Minahasan, North Sulawesi and Maluku. The word Lenso means handkerchief, hence it uses that property during the dance. This dance is commonly presented in groups during some occasions or party, like wedding party, harvest time, new year, Christmas and many more. The most interesting from this dance is, the participants who are still single, can search for mate during the party by performing this dance. www.indonesia-tourism.com
---
Lembeh Island Lembeh island is part of Bitung administrative area in North Sulawesi. The island is separated from the mainland of Sulawesi Island by the Lembeh Strait. Lembeh island is famous for those who like to dive, because Lembeh island is the best diving spot after Bunaken. The divers recognized Bunaken as the Sea Garden in the Earth, but Lembeh is such a virgin island. It is untouched and almost to be the perfect diving spot. There are so many unusual habitats and exotic organisms live under Lembeh island, like,…
---