Tanjung Batu Village in Berau District, East Kalimantan Province
---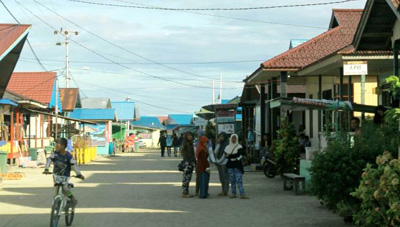 Derawan Archipelago is a renowned vacation destination in East Kalimantan Province. It belongs to Berau District, actually. In order to reach the islands, tourists often take a boat from Tanjung Batu Port. Many tourists even say it is a prime checkpoint prior to visiting any islands in Derawan. Apart from that, it is famous for its local culture and attractions. Moreover, its local foods are mouthwatering! With these facts, tourists can choose it as their vacation spot prior to visiting Derawan Islands. On top of that, the location is quite accessible.
The Nuance
Tanjung Batu Village resides near to a coastal area. No wonder, some villagers build their house near to the beach and work as a fisherman. For tourists, such traditional settlement is quite interesting, especially for those who love photography. They can stand on the pier and capture beautiful pictures from there, including the sunset, fishermen's activities, etc. Tanjung Batu is also famous for its ports, on which travelers can use to access Derawan Islands. It becomes a primary checkpoint to explore the archipelago, after all. That means many speedboats and local boats are seen in that location too.
Exploring Tanjung Batu Village
Before exploring Tanjung Batu Village, tourists should take a rest in a local hotel and try its delicious local crab with soy sauce. The fact is many villagers are into culinary business. Have no worries. The price is affordable and the choice of foods is many. Apart from foods, they can buy some souvenirs like clothes and crafts. Here is the thing. They must learn how to bargain in order to get good prices. As an alternative, they should ask their tour guide to buy those items on their behalf.
The next adventure is on the beach! Nothing can compare the beauty of sunset in Tanjung Batu Beach. In the afternoon, the nuance is festive as local boys come to the beach and play sepak takraw (kick volleyball). Tourists can even join the game, as long as they get permission first. Apart from such activity, local people also come to the beach for gathering and singing. They spend wonderful times with either friends or families there. It doesn't have to be a group activity, though. Tourists can come to the beach alone and enjoy its peaceful atmosphere.
Tanjung Batu Village is famous for its marine activity. For tourists, they have an opportunity to ride fishermen's boat and explore the sea. One thing, they must get the permission first. Some villagers are friendly, after all. That means obtaining such permission won't be a difficult task. Apart from boat riding, fishing is also recommended. It is because big fishes live in that coastal area. When it is about the fishing rod and other equipment, they can either buy or rent them.
Nearby Attractions
Ulingan Beach
Derawan Island
Tanjung Batu Mangroves
How to Get There
From Balikpapan, tourists can take a local transportation service to Berau District. The trip takes about 18 hours and the distance is 749 km. As an alternative, they can simply take an airplane to Berau District (Kalimarau Airport). From there, the last destination is Tanjung Batu Village, which takes about 7 hours. It can be faster if they take Ahmad Yani Street.
Where to Stay
Mega Buana Inn
Derawan Dive Lodge
Fisheries Eco Villa

Latest News
Sangalaki Island is a small island covering an area of 15.9 hectares. This island is one of the islands that are part of Derawan Archipelago. Derawan Islands is a group of islands famous in the world. Aside from Sangalaki Island, another famous island of Derawan Islands are Kakaban and Derawan Island. Sangalaki Island located in the waters of the northern peninsula of Berau. Administratively, Sangalaki Island located in Berau Regency of East Kalimantan Province. Most sea turtles in the world are an endangered species. That includes species hawksbill and green…
---
  Maratua island is one of the outer islands in Indonesia that located in Sulawesi Ocean and it bordered with Malaysia. Maratua island is administratively located on Berau regency, East Kalimantan. Maratua is a small and long island, and it has sharply curve at the edge and it located at the south side of Tarakan city. Maratua Island is also part of Derawan Islands.   By the strategic location and the richness of its marine, Maratua island is now popular by the Travelers from many countries. The tourists who give…
---
Bangkirai Hill Bukit Bangkirai is a natural tourism area which is managed by PT. Inhutani I Unit I Balikpapan. This tourist area is located in Samboja District, Kutai regency, East Kalimantan. Bangkirai hill can be reached by traveling overland for 1.5 hours from the city of Balikpapan. This tour offers the charm of a tropical rain forest that is still natural, and facilitated with some infrastructures like restaurants, hall for meetings, a swimming pool and jungle cottage or cabin. In this area there is a canopy bridge along 64 m…
---
Bontang Bontang is a city in East Kalimantan province, Indonesia. The city is located about 120 kilometers from Samarinda, directly have border to the East Kutai regency in the north and west, Kutai Kartanegara regency in the south and Regency Makassar Strait in the east. In this city stand three large companies in different fields, Badak NGL (natural gas), East Kalimantan Fertilizer (fertilizer and ammonia), and Indominco Mandiri (Coal) and has a petrochemical industrial area called the Kaltim Industrial Estate. Bontang city itself is oriented in the industrial, services and…
---