Igal Dance of Berau District, East Kalimantan Province
---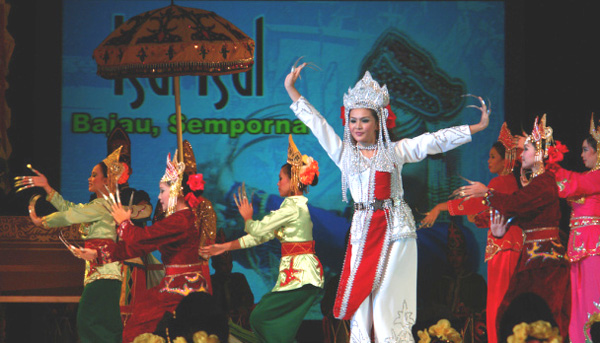 People have different ways in enjoying a vacation. Some are looking for stunning nature like Derawan Archipelago, while the others are into culture tour. Regardless of the preference, it is likely everyone won't overlook the beauty of Igal Dance of Berau District. The locals often perform the dance during Derawan Festival or other important events. For tourists, it is both entertaining and calming performance, so they should watch it when spending a holiday in Berau. The government even considers it an art legacy that should be protected! So, what is it about?
The Nuance
Igal Dance is the pride of Berau and it even becomes their identity. Still, it also becomes tourists' favorite entertainment when visiting Berau District. Most of the time, the dance is performed by a female dancer, wearing stunning black attire with golden-colored ornaments. She also wears unique earrings, necklace, bracelets, and head accessory. Another unique feature is her fingers, ornamented by chain-like accessories. When it comes to the accompaniment, some local musicians would play musical instruments similar to Gamelan. The combination of Igal Dance moves and the music would lure all audience!
Enjoying Igal Dance
Not only Igal Dance offers beautiful costumes, but it also shows mesmerizing movements. The fact is it is performed by women or girls. That means the moves are dynamic and calm, representing their characteristics. Apart from being a local entertainment, the dance also helps the locals to promote their unique culture to tourists or visitors. In other words, it acts as a significant tourism element in Berau District. Not to mention the dance becomes a greeting to any people who are visiting villages in Berau. It shows both warmth and cheerfulness of the locals.
Each person is different, though. Some may say they aren't able to enjoy any dance, including Igal. Well, there is no need to do research when enjoying a particular performance. What people need is only their heart. They may need to sit somewhere and start witnessing the performance. The fact is people have different interpretation about Igal Dance. It's all theirs. Still, the combination of music, costume, gesture, and expression of the dance won't fail to hypnotize everyone. Somehow, it helps the audience to relax and get fun instantly.
The most interesting things to notice in Igal Dance are the emotions and movement communicated by the dancers. Not to mention it has unique dynamics and patterns! Plus, the dancers are able to connect the relationship between the music and the movement. With all those beautiful aspects, Igal makes the audience feel somewhat peaceful and fun at the same time. In the end, it leaves only amazement to their expression. For tourists, the dance is something they should not overlook when visiting Berau. That is for sure.
Nearby Attractions
Labuan Cermin Lake
Kaniungan Island
Sulaiman Bay
Biantan Hotspring
How to Get There
From Balikpapan City, travelers should head to Berau District by airplane. Their destination is Kalimarau Airport, actually. Once they get there, they can simply take a taxi to a nearby village or any places where they can enjoy Igal Dance. In this case, researching the schedule of the performance would be quite helpful.
Where to Stay
Bumi Segah Hotel
Derawan Indah Hotel
Palmy Hotel
Sederhana Hotel
Berau Plaza Hotel

Latest News
Sangalaki Island is a small island covering an area of 15.9 hectares. This island is one of the islands that are part of Derawan Archipelago. Derawan Islands is a group of islands famous in the world. Aside from Sangalaki Island, another famous island of Derawan Islands are Kakaban and Derawan Island. Sangalaki Island located in the waters of the northern peninsula of Berau. Administratively, Sangalaki Island located in Berau Regency of East Kalimantan Province. Most sea turtles in the world are an endangered species. That includes species hawksbill and green…
---
  Maratua island is one of the outer islands in Indonesia that located in Sulawesi Ocean and it bordered with Malaysia. Maratua island is administratively located on Berau regency, East Kalimantan. Maratua is a small and long island, and it has sharply curve at the edge and it located at the south side of Tarakan city. Maratua Island is also part of Derawan Islands.   By the strategic location and the richness of its marine, Maratua island is now popular by the Travelers from many countries. The tourists who give…
---
Bangkirai Hill Bukit Bangkirai is a natural tourism area which is managed by PT. Inhutani I Unit I Balikpapan. This tourist area is located in Samboja District, Kutai regency, East Kalimantan. Bangkirai hill can be reached by traveling overland for 1.5 hours from the city of Balikpapan. This tour offers the charm of a tropical rain forest that is still natural, and facilitated with some infrastructures like restaurants, hall for meetings, a swimming pool and jungle cottage or cabin. In this area there is a canopy bridge along 64 m…
---
Bontang Bontang is a city in East Kalimantan province, Indonesia. The city is located about 120 kilometers from Samarinda, directly have border to the East Kutai regency in the north and west, Kutai Kartanegara regency in the south and Regency Makassar Strait in the east. In this city stand three large companies in different fields, Badak NGL (natural gas), East Kalimantan Fertilizer (fertilizer and ammonia), and Indominco Mandiri (Coal) and has a petrochemical industrial area called the Kaltim Industrial Estate. Bontang city itself is oriented in the industrial, services and…
---