Sanggam Park in Tanjung Redeb Sub-District, Berau
---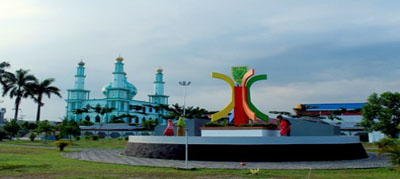 Before exploring Derawan Islands, it is better to visit some interesting places in Berau District. As for the reference, there is Sanggam Park, which belongs to Tanjung Redeb Sub-district. It is a fun place to enjoy a recreation and family vacation. Visitors can relax and witness several plants or beautiful flowers. Also, they can gather with friends or families in order to enjoy bonding. Not to mention the location is quite crowded in weekends, so visitors can make new friends there. With all those benefits, it should be Berau's pride when it comes to local tourism.
The Nuance
Sanggam Park is an open space, which features both plants and flowers. Surrounded by those beautiful things, visitors won't get bored spending times in the park. It becomes crowded both in the morning and afternoon, actually. Most of the people come to the park to enjoy a family recreation and relaxation. Parents even have the chance to introduce their kids to several types of flowers and plants! Due to its width, the park is also suitable for jogging and for playing some games like hide-and-seek or sprint.
Exploring Sanggam Park
The park has a strategic location, which resides in the same area as the local library and Banua Educative House. It is true the park's main attractions are flowers and plants. However, there will be a fruit garden soon. Thanks to the local government. They keep upgrading the park, so visitors feel contented there. Parents can take advantage of it, too. They are able to introduce different types of flowers and fruits to their kids. Another good thing is that they can reach nearby library and other attractions.
The presence of Sanggam Park is also beneficial to local tourism. It increases the number of visitors in Tanjung Redeb, in fact. According to the local government, the park could educate tourists regarding the importance of nature and environment. It even encourages people to cultivate or grow plants in their yard. Sometimes, the government also conducts some programs and training in that park. Tourists would feel lucky if they come at the right time and join such events. It is quite possible, as long as they have researched the schedule beforehand. Taking advantage of a tour guide or service would be quite a help, too.
In terms of history, there was a traditional market in the location where Sanggam Park resides now. Though, it got burnt thoroughly. What people can see now is a wide and beautiful park, which is located near to Kelay River. Another attraction is the presence of ancient structures, which are similar to tombstones. People were surprised back then when heard about those items. Fortunately, those are only broken benches located in Sanggam Park. Still, they become famous objects for photography!
Nearby Attractions
Banua Educative House
Kalay River
Cendana Park
How to Get There
To be exact, Sanggam Park is located in Milono Street and it belongs to Tanjung Redeb Sub-district. The simplest method is go by airplane and the destination is Berau District (Kalimarau Airport). From there, they can simply take a local transportation service to Tanjung Redeb, which takes about 20 minutes via Sultan Agung Street.
Where to Stay
Bumi Segah Hotel
Cantika Swara Hotel
Neotel Hotel

Latest News
Sangalaki Island is a small island covering an area of 15.9 hectares. This island is one of the islands that are part of Derawan Archipelago. Derawan Islands is a group of islands famous in the world. Aside from Sangalaki Island, another famous island of Derawan Islands are Kakaban and Derawan Island. Sangalaki Island located in the waters of the northern peninsula of Berau. Administratively, Sangalaki Island located in Berau Regency of East Kalimantan Province. Most sea turtles in the world are an endangered species. That includes species hawksbill and green…
---
  Maratua island is one of the outer islands in Indonesia that located in Sulawesi Ocean and it bordered with Malaysia. Maratua island is administratively located on Berau regency, East Kalimantan. Maratua is a small and long island, and it has sharply curve at the edge and it located at the south side of Tarakan city. Maratua Island is also part of Derawan Islands.   By the strategic location and the richness of its marine, Maratua island is now popular by the Travelers from many countries. The tourists who give…
---
Bangkirai Hill Bukit Bangkirai is a natural tourism area which is managed by PT. Inhutani I Unit I Balikpapan. This tourist area is located in Samboja District, Kutai regency, East Kalimantan. Bangkirai hill can be reached by traveling overland for 1.5 hours from the city of Balikpapan. This tour offers the charm of a tropical rain forest that is still natural, and facilitated with some infrastructures like restaurants, hall for meetings, a swimming pool and jungle cottage or cabin. In this area there is a canopy bridge along 64 m…
---
Bontang Bontang is a city in East Kalimantan province, Indonesia. The city is located about 120 kilometers from Samarinda, directly have border to the East Kutai regency in the north and west, Kutai Kartanegara regency in the south and Regency Makassar Strait in the east. In this city stand three large companies in different fields, Badak NGL (natural gas), East Kalimantan Fertilizer (fertilizer and ammonia), and Indominco Mandiri (Coal) and has a petrochemical industrial area called the Kaltim Industrial Estate. Bontang city itself is oriented in the industrial, services and…
---