Tanah Merah Waterfall
---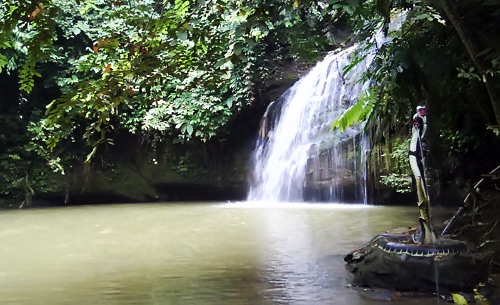 Tanah Merah waterfall has a height of about 15 meters. White water flowing behind big rocks and when the water falls into the lake below it was not clear that the actual color. The muddy color due to the composition of soil which is actually above the peat forest land mixes with water that causes the water become brown cloudy.
The location of Tanah Merah Waterfall is about 14 km from Samarinda downtown, precisely in Purwosari orchard, north Samarinda district. If using public transportation, the visitors can use the route to Segiri Market to Siring River. Then stop at three-junction towards Tanah Merah Waterfall. If the visitors come from Samarinda City, the gateway of Tanah Merah Waterfall is on the right side and opposite if the direction from Bontang. This tourism place has compatible calm for family recreation because equipped with wide park area; ancient verandah palace to took a rest, booth, open stage and others.
To get Tanah Merah Waterfall is quite difficult, because the access road is still repaired by the local government. Targeted on the next year the road will be good to access. The road from the ticket counter to get Tanah Merah Waterfall is not paved. Approximately one kilometer access are still dominated by soil and rock. However, rural atmosphere and the settlement would be fun along the way to the location. The tickets for admission to these attractions is 5,000 IDR/person, for children is 2,000 IDR. While motorcycle and car parking is 2,000 IDR.
The facilities offered by the manager tour is complete enough, such as; open stage, bathroom, seat or bench garden, swimming pool, fishing pond, public hall, gazebo for a break, playground area, some stalls and parking area. For the benefit of visitors to see the whole scenery around the waterfall, the manager builds a wooden staircase which divides the hill. So that visitors more freely up and down the hill without worrying fall slip.
The existence of Tanah Merah Waterfall is still become a favorite destination for Samarinda people. They usually visit this Tanah Merah Waterfall with their family or friends. Tanah Merah Waterfall is crowded on holiday or weekend. After a pretty long journey, plus going up and down stairs, you may feel tired. Yet it will soon disappear once you reach Tanah Merah Waterfall for the beautiful landscape waterfall will remove all your fatigue.

Latest News
Sangalaki Island is a small island covering an area of 15.9 hectares. This island is one of the islands that are part of Derawan Archipelago. Derawan Islands is a group of islands famous in the world. Aside from Sangalaki Island, another famous island of Derawan Islands are Kakaban and Derawan Island. Sangalaki Island located in the waters of the northern peninsula of Berau. Administratively, Sangalaki Island located in Berau Regency of East Kalimantan Province. Most sea turtles in the world are an endangered species. That includes species hawksbill and green…
---
  Maratua island is one of the outer islands in Indonesia that located in Sulawesi Ocean and it bordered with Malaysia. Maratua island is administratively located on Berau regency, East Kalimantan. Maratua is a small and long island, and it has sharply curve at the edge and it located at the south side of Tarakan city. Maratua Island is also part of Derawan Islands.   By the strategic location and the richness of its marine, Maratua island is now popular by the Travelers from many countries. The tourists who give…
---
Bangkirai Hill Bukit Bangkirai is a natural tourism area which is managed by PT. Inhutani I Unit I Balikpapan. This tourist area is located in Samboja District, Kutai regency, East Kalimantan. Bangkirai hill can be reached by traveling overland for 1.5 hours from the city of Balikpapan. This tour offers the charm of a tropical rain forest that is still natural, and facilitated with some infrastructures like restaurants, hall for meetings, a swimming pool and jungle cottage or cabin. In this area there is a canopy bridge along 64 m…
---
Bontang Bontang is a city in East Kalimantan province, Indonesia. The city is located about 120 kilometers from Samarinda, directly have border to the East Kutai regency in the north and west, Kutai Kartanegara regency in the south and Regency Makassar Strait in the east. In this city stand three large companies in different fields, Badak NGL (natural gas), East Kalimantan Fertilizer (fertilizer and ammonia), and Indominco Mandiri (Coal) and has a petrochemical industrial area called the Kaltim Industrial Estate. Bontang city itself is oriented in the industrial, services and…
---