Giring-Giring Beach in Biduk-Biduk Sub-District, Berau District
---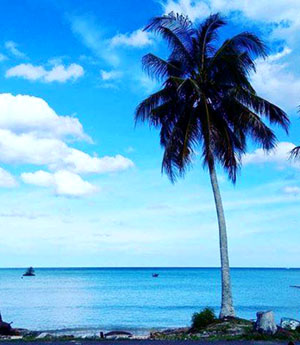 Visiting Berau District is worth tons of experiences and joys. Not only it has the famous Derawan Islands, but it also offers other tourism objects. Beaches are not the exception and one of them is located in Biduk-Biduk Sub-district. The name of the beach is Giring-Giring, which is famous for its flawless white sand and dense coastal mangroves. In terms of popularity, Giring-Giring Beach is a renowned place to enjoy the sunset and to relax. The locals often come to the site to enjoy beach walking, as well. Not to mention it is located near to other attractions such as Sulaiman Bay, Serai River, and much more.
The Nuance
Once tourists get to the beach, what they can feel is breezy wind. They might see a flawless beauty of nature, too, indeed. Featuring soft-textured white sand, the shoreline is suitable for beach walking. In the back, bushes and trees grow majestically! There are not many of them, them. In terms of size, the beach has a long shoreline and no coral reefs at all. This explains why people are mesmerized by its purity. When it comes to the sea water, it is pristine and calm. No dangerous waves are seen, so visitors can enjoy swimming in a safe manner.
Exploring Giring-Giring Beach
Despite its desolated nuance, the beach is well-known among the locals. It even has the potential to attract foreigners. People usually come to this tourist spot for beach walking. Thanks to its comfortable and stunning sand. They don't even need to wear any sandals or footwear to walk on the sand. The only thing that matters is the temperature, which is quite hot at noon. No wonder, the number of trees is low there. In this case, the best times to visit Giring-Giring Beach are in the morning and afternoon!
The next fun activity is definitely swimming or snorkeling. As mentioned before, the sea has calm waves with superb visibility. That means tourists can explore underwater beauty comfortably there. Plus, they have the chance to learn snorkeling! Some spots are easy, while the others are a bit challenging. Thus, it provides an opportunity to take new challenges there. As for the tip, visitors must have prepared the gear beforehand. It is also better to go snorkeling in a group, as it is safer and more interesting. Carrying an underwater camera is allowed, too.
Once enjoying snorkeling and beach walking, visitors can simply enjoy the nuance of sunset at dusk. This can be done while eating snacks and drinking a fresh coconut. Such romantic atmosphere would hypnotize everyone as if the beach won't let people go home! On top of that, it is only the beginning of their adventure because more tourist spots are waiting for them, which are located within Biduk-Biduk Sub-district.
Nearby Attractions
Serai River
Harapan Beach
Labuan Cermin Lake
Bidadari Waterfall
Sulaiman Bay
How to Get There
First, travelers need to take an airplane to Kalimarau Airport, which is located in Tanjung Redeb (the capital of Berau District). From there, they can continue their journey by local transportation service. This time, the destination is Biduk-Biduk Sub-district. With the distance of 250 km, the trip may take about 6-8 hours. As the name suggest, the beach is located in Giring-Giring Village.
Where to Stay
Clarissa Hotel
Selvia Hotel
Fajirah Inn

Latest News
Sangalaki Island is a small island covering an area of 15.9 hectares. This island is one of the islands that are part of Derawan Archipelago. Derawan Islands is a group of islands famous in the world. Aside from Sangalaki Island, another famous island of Derawan Islands are Kakaban and Derawan Island. Sangalaki Island located in the waters of the northern peninsula of Berau. Administratively, Sangalaki Island located in Berau Regency of East Kalimantan Province. Most sea turtles in the world are an endangered species. That includes species hawksbill and green…
---
  Maratua island is one of the outer islands in Indonesia that located in Sulawesi Ocean and it bordered with Malaysia. Maratua island is administratively located on Berau regency, East Kalimantan. Maratua is a small and long island, and it has sharply curve at the edge and it located at the south side of Tarakan city. Maratua Island is also part of Derawan Islands.   By the strategic location and the richness of its marine, Maratua island is now popular by the Travelers from many countries. The tourists who give…
---
Bangkirai Hill Bukit Bangkirai is a natural tourism area which is managed by PT. Inhutani I Unit I Balikpapan. This tourist area is located in Samboja District, Kutai regency, East Kalimantan. Bangkirai hill can be reached by traveling overland for 1.5 hours from the city of Balikpapan. This tour offers the charm of a tropical rain forest that is still natural, and facilitated with some infrastructures like restaurants, hall for meetings, a swimming pool and jungle cottage or cabin. In this area there is a canopy bridge along 64 m…
---
Bontang Bontang is a city in East Kalimantan province, Indonesia. The city is located about 120 kilometers from Samarinda, directly have border to the East Kutai regency in the north and west, Kutai Kartanegara regency in the south and Regency Makassar Strait in the east. In this city stand three large companies in different fields, Badak NGL (natural gas), East Kalimantan Fertilizer (fertilizer and ammonia), and Indominco Mandiri (Coal) and has a petrochemical industrial area called the Kaltim Industrial Estate. Bontang city itself is oriented in the industrial, services and…
---