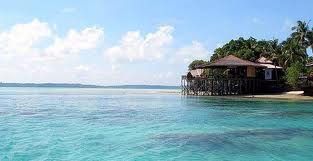 Maratua island is one of the outer islands in Indonesia that located in Sulawesi Ocean and it bordered with Malaysia. Maratua island is administratively located on Berau regency, East Kalimantan.
Maratua is a small and long island, and it has sharply curve at the edge and it located at the south side of Tarakan city.
Maratua Island is also part of Derawan Islands.
By the strategic location and the richness of its marine, Maratua island is now popular by the Travelers from many countries. The tourists who give visit to this island are mostly spending their time by doing swimming, snorkeling and diving. Hence, this Maratua island is popular by its name of Paradise island.
www.indonesia-tourism.com