Samarinda Tourism
---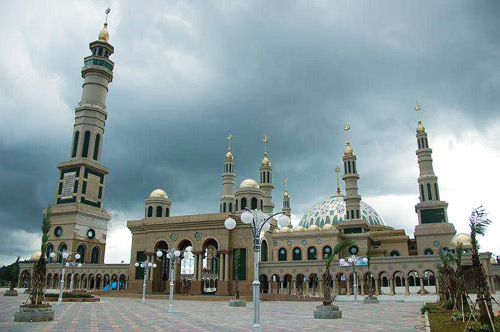 Samarinda is the capital of the East Kalimantan province on Kalimantan Island. The city is lies on the banks of Mahakam River. As well as being the capital, Samarinda is also the most populous city in East Kalimantan with population of 562,463 in 2000 and used by many as a gateway to the more remote regions of the province such as West Kutai, Kutai Kartanegara and East Kutai. To reach these areas usually involves travel by river as the most efficient means. An airport, 'Temindung' and a port are the transportation facility in Samarinda, however, there are plans to relocate both the airport and port soon.
Samarinda's population includes Chinese; Banjarese, who are native to the southern part of the island; Kutais, who are native to the area around Samarinda; and Manu Muslims.
Samarinda is big in timber production, but the main reason to come here to explore the Mahakam River and visit the Dayak tribes that live on the banks of the river. Isuy Bay is located on the shores of Jempang Lake. There is a longhouse craft center and tourist hotel. Dance performances are regular happenings, especially when groups of tourists arrive. 'Mancong' is another longhouse, where you can stay. It's a bit touristy as well. If you have time on your hands, you should head for Melka, which is some 30 hours by boat, but it has a great orchid reserve.
Samarinda is wood industrial estate in East Kalimantan as well as important port town. The location is not far from Balikpapan but the city that populates about 500 thousand men, has different situation from Balikpapan City. For tourist, Samarinda is good place to start the journey to hinterland, fringe Mahakam River. Most of the resident in Samarinda is Banjarese from South Kalimantan, so that Banjar langua has often heard in conversation here. Banjar Language is the primary language in Samarinda. Besides Banjarese, the second of the biggest public group in Samarinda is Kutai and other society that come from other area. Most of Samarinda City region is located in north of Mahakam River. In the riparian of this Mahakam has stood a Raya Darussalam Mosque that becomes one of characteristic or symbol of Samarinda City. Mostly the important white collars and hotel reside in north of the river.

Latest News
Sangalaki Island is a small island covering an area of 15.9 hectares. This island is one of the islands that are part of Derawan Archipelago. Derawan Islands is a group of islands famous in the world. Aside from Sangalaki Island, another famous island of Derawan Islands are Kakaban and Derawan Island. Sangalaki Island located in the waters of the northern peninsula of Berau. Administratively, Sangalaki Island located in Berau Regency of East Kalimantan Province. Most sea turtles in the world are an endangered species. That includes species hawksbill and green…
---
  Maratua island is one of the outer islands in Indonesia that located in Sulawesi Ocean and it bordered with Malaysia. Maratua island is administratively located on Berau regency, East Kalimantan. Maratua is a small and long island, and it has sharply curve at the edge and it located at the south side of Tarakan city. Maratua Island is also part of Derawan Islands.   By the strategic location and the richness of its marine, Maratua island is now popular by the Travelers from many countries. The tourists who give…
---
Bangkirai Hill Bukit Bangkirai is a natural tourism area which is managed by PT. Inhutani I Unit I Balikpapan. This tourist area is located in Samboja District, Kutai regency, East Kalimantan. Bangkirai hill can be reached by traveling overland for 1.5 hours from the city of Balikpapan. This tour offers the charm of a tropical rain forest that is still natural, and facilitated with some infrastructures like restaurants, hall for meetings, a swimming pool and jungle cottage or cabin. In this area there is a canopy bridge along 64 m…
---
Bontang Bontang is a city in East Kalimantan province, Indonesia. The city is located about 120 kilometers from Samarinda, directly have border to the East Kutai regency in the north and west, Kutai Kartanegara regency in the south and Regency Makassar Strait in the east. In this city stand three large companies in different fields, Badak NGL (natural gas), East Kalimantan Fertilizer (fertilizer and ammonia), and Indominco Mandiri (Coal) and has a petrochemical industrial area called the Kaltim Industrial Estate. Bontang city itself is oriented in the industrial, services and…
---